Flashcard Weather Sign Videos give you the confidence to know how these vocabulary words are signed. There is no need to look at a paper and figure out how it is supposed to be signed. Just take a look here and sign along with the video for quick success in knowing your weather sign language words.
Flashcard Weather Sign Videos for Vocabulary Success:
This video(s) shows you how to sign all the words in the flashcard set. It is a part of the Sign Club series.
Weather Lesson Plan Book here.
This Weather Lesson Plan Book is packed with over 180 activity pages for your preschool or kindergarten classroom. Including hands-on activities and crafts, worksheets, flashcards, and weather dice games. Grab this amazing lesson plan book now on Amazon.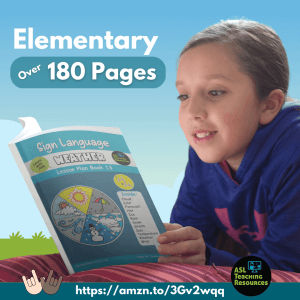 ASL Weather Resource List here.
This ASL Weather Resource List includes links to weather activities, educational games, music, crafts, Boom cards, lessons, and more.
Weather in the Classroom: 5-day Challenge here.
Teach Weather in the Classroom in a Fun Way using English and Sign Language. Not sure where to begin? This 5-part course provides step-by-step instructions and ASL PDF resources to get you started on the path to success.
(2.5 hours PD)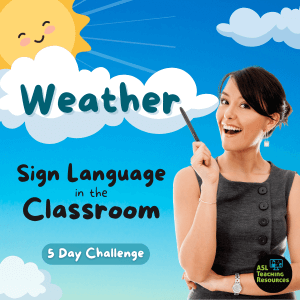 Teaching the Weather here.
Teachers, are you looking for ready-to-use resources to kick off your weather unit with your young students? Then, the Teaching the Weather bundle is ready and waiting for you! Set goals for weather vocabulary, use the weather wheel and get started with these hands-on activities and worksheets.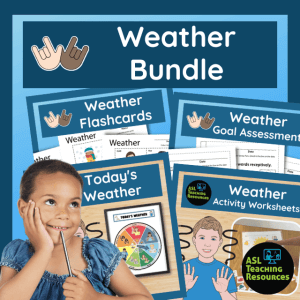 Weather and Calendar Bundle here.
The Polka Dot Weather and Calendar Chart Bundle is a comprehensive collection of resources that will transform your classroom into an engaging and inclusive space. It features pocket calendar cards, interactive labels, Birthday Charts, hands-on charts, a weather forecast display, vocabulary flashcards, and more. These resources will enhance organization, promote inclusivity, and inspire students to explore the worlds of time, numbers, seasons, and weather.
Classroom Weather Calendar Bundle – Polka dot here.
Students learn about weather in an engaging way with the Classroom Weather Calendar Polka Dot Bundle. This bundle includes the Classroom Weather Wheel, Weather Forecast Chart, and Weather Word Flashcards. Students label temperature, describe weather conditions and identify seasons incorporating ASL on the Weather Forecast Chart. The Classroom Weather Wheel introduces weather terminology through bright images and Sign Language, accommodating diverse learning styles and promoting diversity. The Weather Word Flashcards' attractive visuals and signs make them great for classroom activities. They promote vocabulary and word recognition. Students will learn about the weather in a fun and engaging way with this bundle.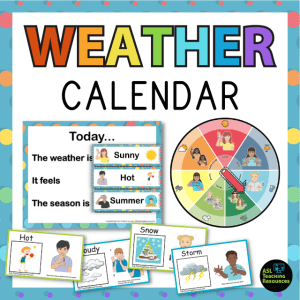 Weather Symbol Charts here. 
Our Weather Symbol Chart ASL poster is an excellent addition to your classroom decor and an essential tool for teaching your children about Weather with the added touch of Sign Language. A well-decorated classroom assists teachers in creating an inviting and relaxed environment in which students are happy and engaged.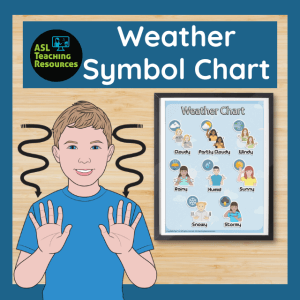 ASL Weather Flashcards here.
ASL Flashcards – Weather is a great way to keep your students interested and learning. The fact that you can infinitely use them is the best thing about them! Stick them on walls or objects, or use them as flashcards.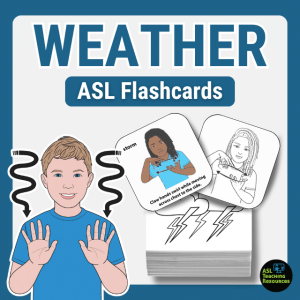 ASL Weather Cards here.
Weather Word Flashcards are an effective resource for instructors to create a language-rich atmosphere and boost vocabulary acquisition. Perfect for morning meetings or use in pocket charts or on word walls.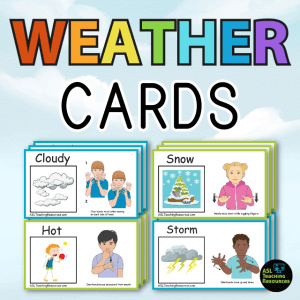 ASL Weather Cards Video
ASL Weather Wall Charts here.
Wall Chart Book 13 – Signs for Weather will have your students on the way to ASL success by displaying these anchor charts in the classroom!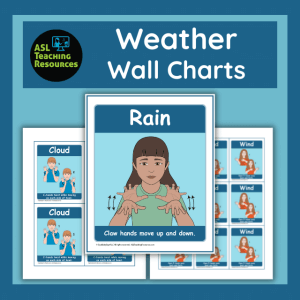 ASL Weather Coloring Sheets here.
You'll adore these ASL Weather Coloring Sheets! 🌞 Weather-related activities are an excellent way to learn sign language! These coloring pages feature various Weather-themed signs used to teach ASL engagingly.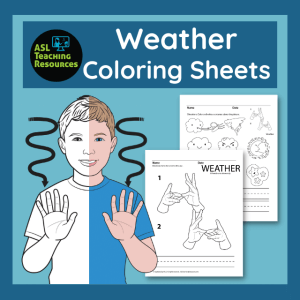 ASL Weather Scramble here.
This fun interactive ASL Weather Scramble Game tests your puzzle-solving skills!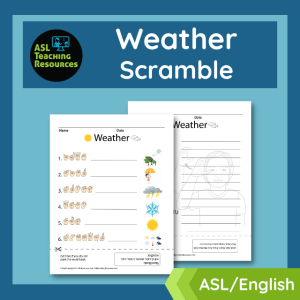 ASL Weather Word Search here.
The ASL Weather Word Search is a fun way to pass the time and excellent classroom activity. Word searches reinforce recognition of the weather vocabulary words, and the challenge can provide a sense of accomplishment upon completion.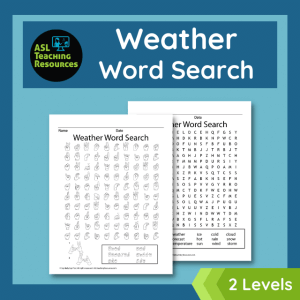 ASL Weather Fortune Teller here.
Enhance your student's vocabulary learning routine with the ASL Paper Fortune Teller Game – Weather. Get hours of fun as they learn weather vocabulary and sign language with this fun origami craft!
ASL Weather Dice here.
The Weather Dice set will help children and adults learn ASL while providing a fun activity to increase their vocabulary! Your students will thrive in their ASL skill development!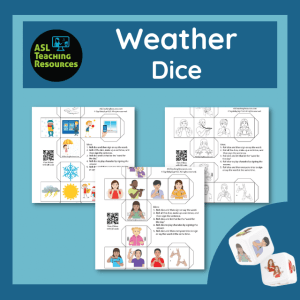 ASL Weather Vocabulary Game – Part 1 here.
The Weather Vocabulary Game – Part 1 is a flashcard set teaching Weather-related signs in progression. 🌤 Students are challenged by saying and learning the signs and then matching the word.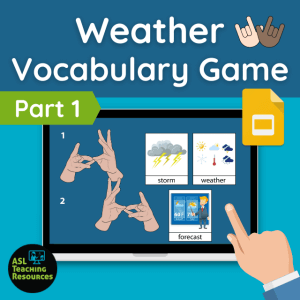 ASL Weather Vocabulary Game – Part 2 here.
This Weather Vocabulary Game – Part 2 is a flashcard set teaching Weather-related signs in progression. 🌦 Students will learn each word and its respective sign, followed by self-checking their knowledge by reading and writing the words. We recommend getting both sets for the maximum learning experience.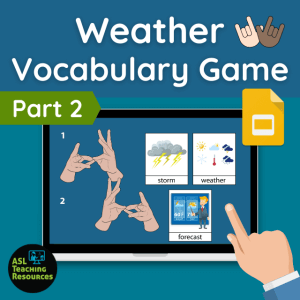 Boom Cards Distant Learning: Weather
Boost your student's Weather vocabulary with these online learning tools.
To purchase our Boom Cards, click here and search for the products.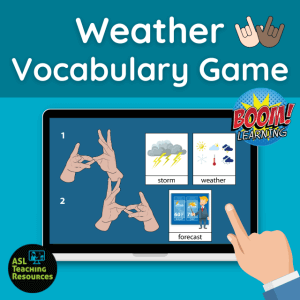 👉 Additional Resources 👈🏼
🌡 Collect More Weather Fun here!
👉 ASL in the Classroom Blogs here.

Sign Language Books on Amazon here.
Subscribe to our YouTube Channel. 
Love this product? Learn how to get this free!