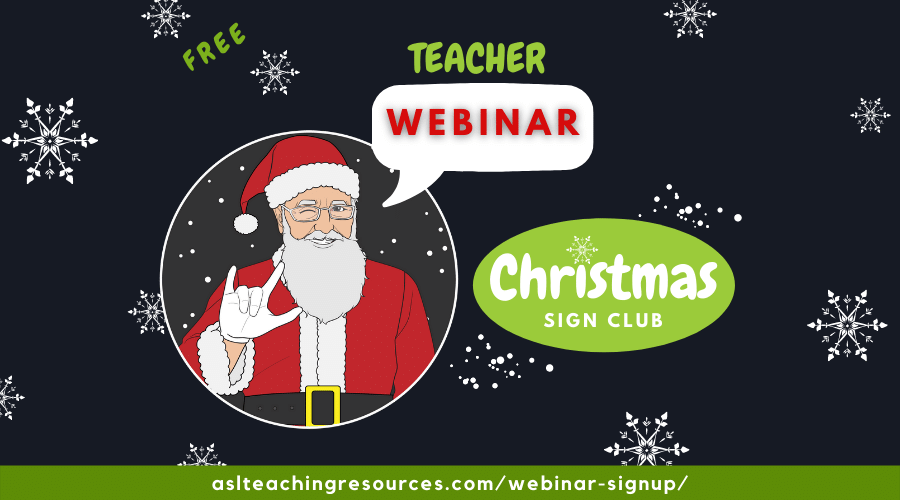 Christmas Ideas Webinar
 Fun Resources – ASL in the Classroom
See how and where to find ASL resources you need for your students.
Join the free ASL Resources Webinar: 
Time: Wednesday, December 8th @ 7-8 pm EST "Christmas"
Coming soon:
Saturday, January 15th @ 10:30-11:30am EST "Valentines Sign Club"
Saturday, February 19th @ 10:30-11:30am EST "Emotions Sign Club"
Saturday, March 19th @ 10:30-11:30 am EST "5 Tips for Using Sign Language with Autism"
Scroll down ⬇︎ to register.

ASL for Teachers Webinar
In this training, we'll guide you on how to find and use sign language resources. Whether you are a new member or plan to be one, you'll learn tips and tricks to finding what you need for your students, parents, as well as for your teaching needs.
Be ready to see fun resources for teaching and working with students using worksheets, online activities, games, songs, and crafts!
After this training, you'll be able to access your tools within minutes. You don't want to miss this free training. Certificate of attendance given for 1 hour. Submit your questions in advance to us @ info@aslteachingresources.com
Who: Those who work with students using sign language: elementary teachers, special needs adults, Autism, homeschool, speech pathologist, daycares, etc.
Description: Are you working with children (deaf or hearing) and you want to incorporate the use of Sign Language? In this training, we will show you amazing resources where all of the work is done for YOU.
What you will learn:
√ Explain where you can find resources that are specialized for working with children/students.
√ Introduce you to this week's Sign program for children and how to get it free.
√ Show how to implement the lessons and how to get free support videos.
√ Guide you on how to be successful whether you know sign or not.
√ Demonstrate tools for teaching online or in person.
At the end, we will give you a one-time promotion that unlocks hundreds of resources beyond what I show you in the training. If you use sign language with students, then you will not want to miss this.
A certificate of attendance will be given for Professional Development.
You will get a 2-part code (at the beginning and the end).
Need CC? Use http://webcaptioner.com/ on a second device.
The webinar will be presented in sign and voiced.
Subscribe to our YoutTube here.
Bonus!! Free tools will be given at the webinar.
We want YOU to be SUCCESS! We give you all the tools necessary.