Description
Embark on an exciting weather adventure with the vibrant Polka Dot Classroom Weather Calendar Bundle! This incredible bundle includes three fantastic resources: the Weather Forecast Chart, the Classroom Weather Wheel, and the Weather Word Flashcards. Picture a classroom filled with playful polka dots, where learning about the weather is a breeze. You'll love all the benefits these Sign Language inclusive resources bring to your student's learning experience.
You can find me in the Mega Polka Dot Classroom Decor BUNDLE!
You can find me in the Ulitmate Polka Dot Weather and Calendar Chart BUNDLE!
The Classroom Weather Calendar Includes:
Imagine your students becoming weather experts with the help of the Weather Forecast Chart. This chart features a Today's weather poster, where students can label the temperature, describe what the weather feels like, and identify the season. It's like having their mini weather station! But the addition of adorable weather icons makes it even more remarkable. Yes, your students can learn to talk about the weather using Sign Language too, unlocking a new level of understanding. This inclusive approach ensures that everyone can communicate and express themselves, regardless of their communication needs. Plus, the weather labels come in color and black and white versions, so students can proudly display their weather masterpieces at home.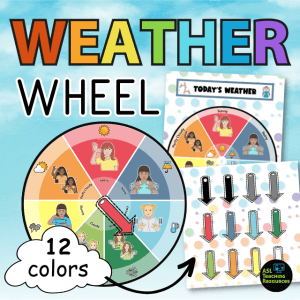 The Classroom Weather Wheel is a treasure trove for engaging students with different learning styles. It comes in a vibrant color and black-and-white edition for personalized coloring fun. The two versions feature English words, Sign Language, and delightful illustrations that capture students' interest. The polka dot-themed chart introduces weather vocabulary like cloudy, sunny, rainy, stormy, and more. The Weather Wheel caters to visual and kinesthetic learners by incorporating ASL and illustrations, allowing them to connect with the material more deeply. It's not just a learning tool; it promotes vocabulary development and word recognition and creates an inclusive learning environment.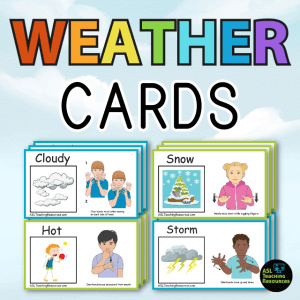 The Weather Word Flashcards are perfect for improving vocabulary acquisition and creating a language-rich classroom environment. Each card pairs a weather-related term with a vibrant visual representation, making it easy for students to expand their vocabulary and deepen their understanding of weather patterns. The captivating illustrations on these flashcards capture children's attention while encouraging contextual comprehension and word association. Including ASL and visuals for learners of all styles, ensuring every student can engage with the material. Teachers can use the flashcards on a word wall or incorporate them into engaging games like matching or charades, making learning fun and interactive.
With the Classroom Weather Calendar Polka Dot Bundle, your students will thrive in an inclusive and engaging learning environment. They will become weather whizzes, reinforcing their knowledge, improving word recognition, and exploring the exciting world of weather. So, let's bring the magic of playful polka dots and comprehensive resources into your classroom. Get ready to inspire and captivate your students with the wonders of the weather!
5-Day Weather Challenge
Teach Weather in the Classroom the Fun Way with English and Sign Language. Wondering where to start? This 5-part training gives you step-by-step guidance and ASL PDF resources to get you started for success.
Learn more here! Weather in the Classroom
👉 Additional Resources 👈🏼
Collect more Weather fun here. 🌡
Collect More Classroom Decor here!
ASL in the Classroom Blogs here.
Sign Language Amazon Books here.
Subscribe to our YouTube channel.
❤️ Love this product? Learn how to get this free!