Description
Portrait ASL Calendar Version
These ASL Calendars are ideal for learning more Sign Language while keeping track of the days and months of the year.
The Portrait ASL Calendars Include:
It comes in full color
Seasonal images
ASL Numbers for each day
Features three versions:

Light-skinned
Dark-skinned
Black and White

Scan the QR code at the upper left of each page for more ASL resources!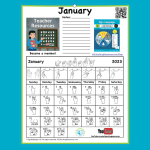 Portrait Version
Student ASL Calendar Version
This Calendar is designed to help students practice writing, create their monthly Calendar, and answer questions about each month for academic learning. All of this with the help of sign language! Without previously added dates, this interactive monthly Calendar that you can use year after year.
This ASL Student Calendar features:
Students handwrite the dates on their calendars.
Then, each month, the student answers a set of questions.
BONUS: This product is a PDF with an editable/fillable version for students who require accommodations.
Sample guided writing questions:
1. Write "January" at the top of the Calendar.
2. Write the correct numbers in each box to show the dates of January.
3. What month comes after January?
4. How many days are in this month?
5. How many Sundays are in January?
6. What day of the week is Martin Luther King Jr. Day?
7. What is your favorite part about January? (Write your answer to question 7 on the back of the page or a separate sheet of paper).
3 Benefits of using Sign Language Calendar for Students:
Learn how to say the days and months in sign language.
Use this sign language calendar to keep track of the Calendar's days and months.
Children's memorization skills are improved.
This is a downloadable product. Download the file and print it on your printer.
👉 Additional Resources 👈🏼
Watch the free Sign Language Club Calendar here.
Want more calendar fun – full of Sign Language? Click here.
ASL in the Classroom Blogs here.
Subscribe to our YouTube channel.
Love this product? Learn how to get this free!