Calendar in Sign Language gives you the confidence to know how these vocabulary words are signed and reinforcement resource activities. There is no need to look at a paper and figure out how it is supposed to be signed. Just look here and sign along with the video for quick success in knowing your calendar sign language words.
Calendar Sign Language for Vocabulary Success:
This video(s) shows you how to sign all the words in the flashcard set. It is a part of the Sign Club series.
Calendar Flashcards
With these Calendar Flashcards, learning is fun! These interactive cards improve vocabulary and accommodate diverse learning styles. These flashcards make learning calendar concepts fun with color, black-and-white, and sign language. Explore calendar vocabulary and relate traditional pictures to life. These flashcards make learning enjoyable and engaging.

Yearly Planners
This American Sign Language Daily, Weekly, and Monthly Updated ASL Yearly Planners is the best way to plan and schedule your busy life. Each page is colorful and includes both English and sign language. Each season brings a new look and set of signs to take in. This undated American Sign Language annual planner calendar was created with sign language enthusiasts in mind. It will help you stay organized every day, every week, and every month. The large size gives you plenty of room for your essential information. Available in paperback, spiral bound, and editable.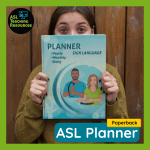 Student Planners
This seasonal ASL Student Planner is an EDITABLE, UNDATED weekly planner with several areas to help you organize your school schedule. Each page contains both English and Sign Language illustrations to assist you in succeeding. Use this ASL Seasonal Planner's editable functionality by typing your event to use only on your laptop or customize it and then print. These planners are one-of-a-kind and measure 8.5′′ x 11′′. The large format accommodates all of your information. It's a great way to start each week off right.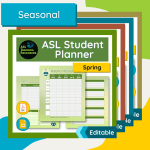 MEGA Polka Dot Classroom Theme Decor Bundle
Educational materials in the Mega Sign Language Polka Dot Theme Decor Bundle provide an exciting and inclusive learning environment. Polka Dot Alphabet, Number, Classroom Weather, and Classroom Calendar are included in this bundle. These resources boost classroom structure, diversity, and inclusivity. This mega bundle offers a complete education with ASL signs, interactive activities, compelling visuals, and multi-sensory guidance. The Mega Sign Language Polka Dot Classroom Theme Decor Bundle empowers kids and inspires a love of learning with alphabet recognition, number sense, weather exploration, and calendar skills.

Classroom Calendar Bundle
The Polka Dot Classroom Calendar Bundle helps organize, include, and teach multi-sensory. English, Sign Language (sign and fingerspelling), polka dots themed, and three skin tones make it welcoming and diverse. The set gives auditory, visual, and tactile assistance for days, months, seasons and personalized student birthday announcements. Create a vibrant, inclusive classroom where students actively participate in their learning!

ASL Wall Calendars
These ASL Calendars are ideal for learning more Sign Language while keeping track of the days and months of the year. Seasonal images, three skin tones, and QR codes to additional resources.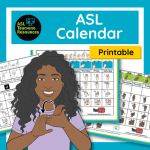 Student Calendar Worksheets
Student Calendar Worksheets help kids write, build a monthly calendar, and answer questions about each month. All with sign language! Students will learn to say, sign, and write days and months and understand why calendars are vital in our lives. For students that need accommodations, this PDF is editable/fillable. Without previously inputted dates, this interactive monthly student Calendar can be used year after year.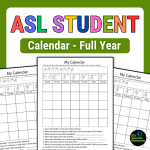 Calendar Dice Game
Roll and sign with this Calendar Dice game. Boost calendar vocabulary retention while having fun with these versatile dice cubes.

Pocket Chart Calendar Cards
Classrooms need these colorful Pocket Chart Calendar Cards. Their polka dot theme, English and Sign Language, varied skin tones, numerals, days, and years make them versatile and inclusive. ASL and diversity in the classroom improve students' communication, comprehension, and appreciation. These charming cards can brighten up your classroom and make it fun for everyone.

Days of the Week
The Days of the Week labels give an immersive and inclusive learning experience with English words, Sign Language (signs and fingerspelling), and attractive polka dot borders. These labels cater to various learning styles and promote classroom harmony. This versatile product will make your school exciting and accessible, whether you're building bulletin boards, pocket calendars, or flip calendars. Help your youngsters memorize the days of the week through visual and tactile learning using this resource as flashcards.

Months of the Year
Charming Polka Dot Calendar Monthly Labels will brighten up your classroom. They include headers for all 12 months in English, Sign Language, fingerspelling, and seasonal themes. These labels are engaging for students, ideal for bulletin boards, pocket charts, flip calendars, and suitable for all learning styles. In addition, labels teach the current month and its position. These months of the year labels will enhance your decor, promote inclusivity, and promote student development.

Seasons of the Year
Polka Dot Seasons of the Year labels brighten and enrich your classroom. These labels unite and engage diverse learners with their lovely polka dot designs, seasonal backdrop colors, and English and Sign Language. This adaptable solution makes bulletin boards, pocket calendars, and flip calendars interactive and engaging. Use these cards as flashcards for visual and tactile learning to help kids enjoy the beautiful seasons.

Calendar Boom™️ Cards
Online games are at your fingertips here.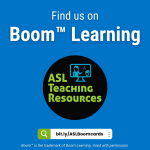 👉 Additional Resources 👈🏼
Collect More Calendar Fun here!
ASL in the Classroom Blogs here.
Sign Language Books on Amazon here.
Subscribe to our YouTube Channel.
👉 Sign Language in the Classroom: Quick Guide here.
Love this product? Learn how to get this free!