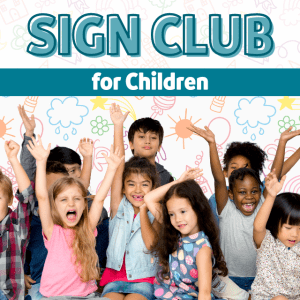 Welcome to Sign Club for Children, where we give you all the tools you need to be successful whether you know sign or not.
Teach Sign Club With Ease
✔︎ Inspire your students with the beauty of sign language.
✔︎ Foster inclusivity and communication skills that will last a lifetime.
✔︎ Cultivate a sense of global awareness and appreciation for diverse cultures.
What's Inside:
Monthly Themed Units: Dive into exciting themes each month keeping your classroom buzzing with curiosity.
Interactive Lessons: Engage your students with dynamic lessons that incorporate games, crafts, songs, and hands-on activities, making learning sign language a fun engaging experience.
Resources Galore: With each lesson, you'll be given access to up to 8 of the lesson's activities, and teacher lesson plans with clickable links to more fun ideas to expand each unit to ensure a seamless teaching experience.
Why Choose Our Sign Club Curriculum:
Comprehensive: A full year of ready-to-use materials ensures you're always well-prepared.
Engaging: Our interactive approach keeps students excited and motivated to learn.
Inclusive: Promote inclusivity and empathy by teaching a universal language.
Supportive: Join a thriving teacher community for ongoing inspiration and guidance.
Don't miss this chance to transform your classroom into a vibrant hub of communication and learning. Get started today and watch your students flourish with the magic of sign language!
DISCLAIMER:  Videos and handouts that reference "free" or "unlimited downloads" have been updated for use with "ASL Bucks" based on your membership level. Details and FAQ here.
Order today and get unlimited access to this course for 365 days. 
Requirements: Access to the internet and printer.
Save time and money by becoming a member. You'll love the benefits of your membership. Click – Print – Teach
Memberships HerePurchase Orders
If you want additional support for your Sign Club for Children and interact with others using these materials, join our Facebook group here.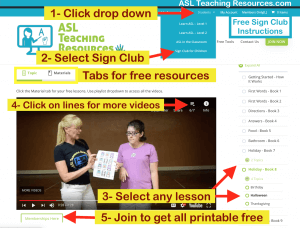 Visit our Amazon Store
Subscribe to our YouTube Channel 
You will have 365 days from the date of purchase to complete the course. After that, additional access to this course can be purchased.
Need credit for Professional Development hours?  A certificate of completion is available at the completion of the course at no additional cost.
Ratings and Reviews