Description
This comprehensive Classroom Polka Dot Calendar Bundle is a must-have for any classroom to improve student engagement and inclusiveness. Utilize the pocket chart cards and bulletin board headers to create a visually engaging and functional calendar display that suits your classroom's needs. From tracking time with calendar numbers to reinforce the understanding of days, months, and seasons, this set caters to diverse learning styles and ensures students are actively involved. Including three different skin tones fosters a sense of belonging and represents the unique identities within your classroom.
Polka Dot Classroom Calendar Includes:
Polka dot border
Colorful backgrounds
English
Sign Language
3 skin tones
Pocket cards
Bulletin board headers
ASL Numbers 1-31
Years (through 2031)
Days of the Week (3 versions)
Months of the Year
Seasons of the Year
Customizable Birthday displays
Blank cards and labels
You can find me in the Mega Polka Dot Classroom Decor BUNDLE!
You can find me in the Ultimate Polka Dot Weather and Calendar Chart BUNDLE!
ASL Classroom Calendar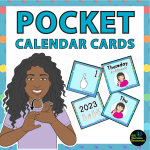 The Pocket Chart Calendar Cards incorporate ASL numbers, days of the week cards with and without fingerspelling, and years. They serve as visual aids and hands-on learning tools, allowing your students to actively engage with the calendar and develop their understanding of time, numbers, and American Sign Language (ASL). Integrating these cards into your classroom routine provides a multi-sensory experience that caters to different learning styles, helping students grasp these fundamental concepts more effectively.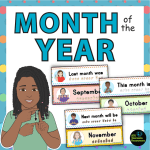 The Months of the Year labels feature charming polka dot designs and seasonal colors, enhancing your classroom environment while promoting a sense of excitement and curiosity about the passing months. With headers for all 12 months of the year in English and Sign Language (including signs and fingerspelling), these labels go beyond mere decoration. They actively aid students in their educational journey, helping them learn the months while reinforcing their knowledge of Sign Language. Plus, the inclusion of Before and After labels allow you to teach the concept of the current month and its chronological position, fostering a deeper understanding of time.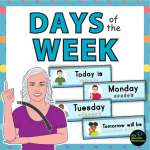 When it comes to the Days of the Week labels, prepare to step into a world of inclusivity and visual delight. These captivating labels feature a perfect blend of English words, Sign Language (including signs and fingerspelling), and a charming polka dot border. With three different skin tones options, these labels cater to diverse learning styles and create a sense of belonging for all students. By incorporating these labels into your daily routines, such as circle time or morning calendar activities, you transform them into interactive teaching tools. Your students will strengthen their understanding of the days of the week and develop their knowledge of Sign Language. This multi-sensory approach ensures that students with different learning preferences can grasp the concept effectively, fostering a sense of inclusivity and understanding in the classroom.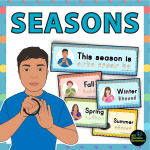 The lovely Seasons of the Year labels immerse your kids in bright seasons with a charming polka dot border, seasonal backdrop colors, and a mix of English words and Sign Language (including signals and fingerspelling). These labels, whether displayed on bulletin boards or incorporated into a pocket or flip calendars, provide visual clues that connect learners. Their intriguing designs arouse your students' interest and promote comprehension, resulting in a fun and active learning environment. You encourage communication and cultural awareness in your students by embracing the interplay of English and Sign Language.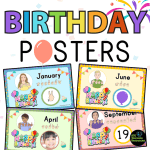 Make every student's birthday an extraordinary occasion with the Birthday Charts. Bursting with creativity and designed with inclusivity, these charts combine English and Sign Language, a charming polka dot border, and vibrant background colors. By incorporating three different skin tones, these charts ensure that every child feels represented and appreciated on their special day. Imagine your students' delight as they see their names, photos, or birthdates beautifully displayed on these vibrant posters. Whether you showcase them on your bulletin board or alongside your classroom calendar, the Birthday Charts will create an atmosphere of joy and celebration throughout the year, fostering a sense of belonging and making birthdays genuinely memorable.
Incorporating the Classroom Polka Dot Calendar Bundle into your classroom will enhance organization and visual appeal and provide numerous benefits for your students. From developing a deeper understanding of time, numbers, and seasons to fostering inclusivity, multi-sensory learning, and appreciation for different cultures, this bundle creates an engaging and enriching educational experience. So, transform your classroom into a vibrant and inclusive space where learning and celebration go hand in hand!
Why should you consider using Sign Language in your classroom?
Sign language assists all students by providing auditory, visual, and kinesthetic guidance. Students nowadays are different learners, and adopting ASL in the classroom boosts academic achievement.
Improves engagement.
Pairs with phonics for alphabet and letter/sound learning.
Combine signing sight words with printed text for faster reading development.
Use finger spelling with printed spelling words for fine motor skill development.
Enhance vocabulary acquisition.
Boost speech and language development.

👉 Additional Resources 👈🏼
Collect More Classroom Decor here!
Collect more Weather fun here. 🌡
ASL in the Classroom Blogs here.
Sign Language Books on Amazon here.
Subscribe to our YouTube channel.
❤️ Love this product? Learn how to get this free!