Description
Are you looking for a comprehensive collection of educational resources designed to create an engaging and inclusive learning environment? This Mega Sign Langauge Polka Dot Theme Decor Bundle combines ASL resources with unique features to support diverse learning methods and promote a sense of belonging—the perfect addition to your classroom decor. Decorate your classroom with these polka dot ABCs, Numbers (1-30) posters, and classroom calendar and weather set, and make your morning meetings a hit!
Polka Dot Classroom Mega ASL Bundle Includes:
Alphabet Wall Charts
Numbers Wall Charts 1-30
Monthly Birthday Charts
Calendar: Monthly Labels
Calendar: Days of the Week
Calendar: Pocket Chart Numbers/Years
Calendar: Seasons
Weather: Classroom Weather Wheel
Weather: Forecast Chart
Weather: Word Wall Flashcards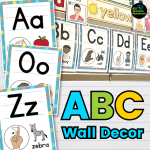 The Polka Dot Alphabet Wall Charts are an integral part of this bundle, providing a complete teaching tool for young learners. Each chart showcases an alphabet letter alongside its corresponding American Sign Language (ASL) sign, represented by an illustration. These charts facilitate visual connections between letters and familiar objects or concepts by incorporating carefully selected icons. Additionally, children can enjoy the interactive "Letter of the Day" activity, where they can color and personalize their alphabet poster.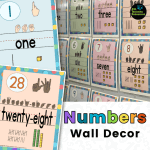 The eye-catching Polka Dot Number Wall Charts are included in this Sign Language bundle for developing numeracy skills. These charts display numbers 1 through 30 in captivating designs that capture children's attention. Alongside the numerical representations, fingerspelling is incorporated to aid in number recognition and comprehension. Including counting cubes, tally marks, and black-and-white posters for creative expression, these charts transform learning numbers into a fun and engaging experience, fostering a strong number sense in young learners.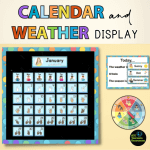 The Sign Langauge Polka Dot Weather and Calendar Chart Bundle will take students on an exciting inclusive classroom adventure. This comprehensive bundle comprises Classroom Calendar and the Weather Calendar sets.
The Weather Calendar includes Weather Forecast Charts, Classroom Weather Wheels, and Weather Word Flashcards. The Weather Forecast Chart empowers students to become weather experts by labeling temperature, describing weather conditions, and identifying seasons while incorporating ASL. The Classroom Weather Wheel helps students master weather vocabulary through vibrant visuals and Sign Language, catering to different learning styles and promoting inclusivity. Students can expand their vocabulary and word recognition with the captivating Weather Word Flashcards featuring illustrations and ASL. These resources offer a fun and interactive learning experience, allowing students to deepen their understanding of weather phenomena.
Adding to the versatility of the bundle, the Sign Language Polka Dot Calendar Set enhances classroom organization and promotes multi-sensory learning. This set creates a welcoming and diverse atmosphere with its inclusive design, incorporating English, Sign Language (sign and fingerspelling), a polka dot border, and three skin tones. From calendar numbers to days, months, seasons, and personalized student birthday announcements, this set offers auditory, visual, and kinesthetic guidance. Students can actively participate in their learning journey, transforming the classroom into a vibrant and inclusive space.
The Mega Sign Language Polka Dot Theme Decor Bundle combines these all-inclusive resources and offers a comprehensive and engaging classroom package. With its focus on inclusivity, multi-sensory learning, and the promotion of diverse teaching methods, this mega bundle empowers educators and delights young learners.
🌟 Why should you add Sign Language to early education? Here are five incredible benefits:
Fosters inclusivity and understanding among students.
Enhances communication skills and promotes language development.
Boosts cognitive abilities and memory retention.
Cultivates a sense of empathy and appreciation for diversity.
Facilitates a multi-sensory learning experience.
👉 Additional Resources 👈🏼
Collect More Classroom Decor here!
Collect more Weather fun here. 🌡
ASL in the Classroom Blogs here.
Sign Language Amazon Books here.
Subscribe to our YouTube channel.
❤️ Love this product? Learn how to get this free!