Description
Explore an exciting new universe in the bright Polka Dot Weather and Calendar Chart Bundle, where the combination of whimsical polka dots and rich learning tools will capture your students' imaginations. Everything you need to make your classroom a lively and welcoming atmosphere where learning and celebration go hand in hand is included in this ultimate bundle, from engaging pocket calendar cards and interactive labels to artistic birthday posters and weather-themed charts.
You can find me in the Mega Polka Dot Classroom Decor BUNDLE!
Polka Dot Weather and Calendar Chart Include:
Any classroom would benefit greatly from having this all-inclusive Polka Dot Calendar set. You can construct a visually appealing calendar display with the included pocket chart cards and bulletin board headers, and they're adaptable to students with various learning methods. Students of all backgrounds will feel more at home with the inclusion of a wide range of skin tones. Students can practice telling time, counting, and using American Sign Language (ASL) with the help of the Pocket Chart Calendar Cards. The Months of the Year and Days of the Week labels are more than just pretty wall art; they help kids learn Sign Language and better grasp time. Students are immersed in vivid seasons because of the Seasons of the Year labels, which help with comprehension and cultural awareness. Also, don't forget to use the Birthday Charts to help make every student's birthday unique and memorable.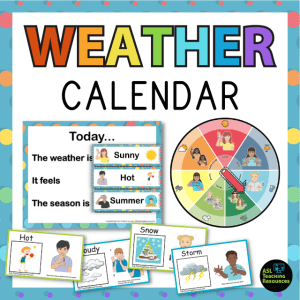 Educating students about the weather has never been easier than with the help of the Classroom Weather Calendar set. Envision a cheerful polka-dotted classroom where students learn to understand and predict the weather. Students can use the Sign Language Weather Forecast Chart to learn how to describe the weather and determine the season. The interactive Classroom Weather Wheel incorporates colorful visuals, ASL, and weather vocabulary to appeal to many kids. With engaging pictures that promote contextual understanding, the Weather Word Flashcards help students learn new words and create a language-rich environment.
The Polka Dot Weather and Calendar Chart Bundle is a set of classroom essentials to help you run a more efficient and inclusive classroom. This comprehensive set offers a wealth of educational benefits, from gaining a firmer grasp of time, numbers, and seasons to delving into the fascinating realm of weather. Prepare to inspire and engage your kids with colorful polka dots and extensive resources!
5-Day Weather Challenge
Teach Weather in the Classroom the Fun Way with English and Sign Language. Wondering where to start? This 5-part training gives you step-by-step guidance and ASL PDF resources to get you started for success.
Learn more here! Weather in the Classroom
👉 Additional Resources 👈🏼
Collect More Classroom Decor here!
Collect more Weather fun here. 🌡
ASL in the Classroom Blogs here.
Sign Language Amazon Books here.
Subscribe to our YouTube channel.
❤️ Love this product? Learn how to get this free!