Description
Already purchased? Go directly to take your course now.
5-Day Weather Challenge here.
Teach Weather in the Classroom the Fun Way with English and Sign Language.
Wondering where to start? In this 5-Day Challenge, you'll explore the following:
Using ASL in the classroom
Unique ideas for teaching weather
How to quickly get set up
How to incorporate signs
Description of class:
Teach Weather in the Classroom the Fun Way with English and Sign Language. Wondering where to start? This 5-part training gives you step-by-step guidance and ASL PDF resources to get you started for success.
Discover new and engaging techniques for your classroom incorporating sign language. You'll discover how to enhance learning by bringing visual, auditory, and kinesthetic methods to reach all students. Be ready for this interactive, hands-on experience. Concepts can be used with diverse preschool and elementary children, hearing, hard-of-hearing, deaf, ESL, SPED, and more.
Format:  View and learn from real-life situations in the classroom using the Internet. No books are required. You'll need to be able to download PDFs.
You will have 30 days from the date of purchase to complete the course. After that, additional access to this course can be purchased.
Need credit for Professional Development hours? A certificate of completion is available at the completion of the course at no additional cost.
Instructor:  Cynthia Long, Nationally Certified Interpreter for the Deaf and founder.
Grab the Teaching the Weather Bundle here.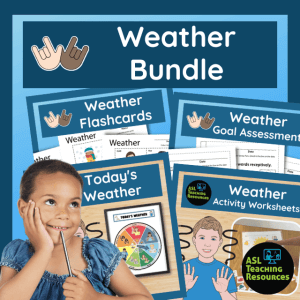 Save time and money by becoming a member. You'll love the benefits of your membership. Click – Print – Teach
For more videos, subscribe to our YouTube here.