Flashcard Valentine Sign Videos give you the confidence to know how these vocabulary words are signed. There is no need to look at a paper and figure out how it is supposed to be signed. Instead, look here and sign along with the video for quick success in knowing your Valentine's sign language words.
Flashcard Valentine Sign Videos for Vocabulary Success:
This video(s) shows you how to sign all the words in the flashcard set. It is a part of the Sign Club series.
Valentine Flashcards here.
These bilingual flashcards will teach you to sign and recognize twelve common Valentine vocabulary words. In addition, this Holiday collection features various possibilities to keep learning enjoyable and engaging. Flashcards with and without written words, icons, and full-colored and black-and-white sets can help you discover the joy of learning new words.
Valentine Wall Charts here.
Students will like being able to color their wall charts as well as seeing beautiful and decorative ASL charts throughout the classroom. These updated and improved designs assist children in learning a sign while also providing an activity for reinforcement.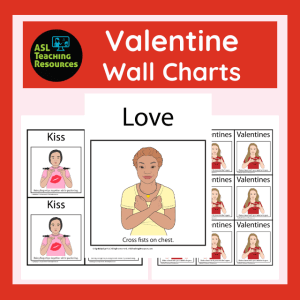 Valentine Coloring Pages here.
You're going to love these Valentine Coloring Pages ASL! Valentine's Day is a great time to learn Valentine's sign language while playing all at the same time! These coloring pages feature different Valentine-themed signs that you can use to teach ASL in fun and engaging ways. Students will love coloring these cute graphics, and you will love that they can practice writing too.
Valentine ASL Bingo Book here.
Feel the love and enjoy bonding moments with your student while learning sign language with this Valentine ASL Bingo Book. Both kids and the "kids-at-heart" can play with these Valentines-themed ASL cards.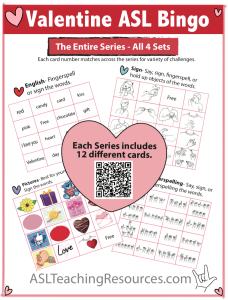 I-Spy Valentine Game here.
Test your ASL knowledge and skills with these fun interactive I Spy ASL Valentine's Day activities! You and your students will enjoy practicing vocabulary recognition! In addition, students and educators will enjoy and be challenged by these no-prep printables.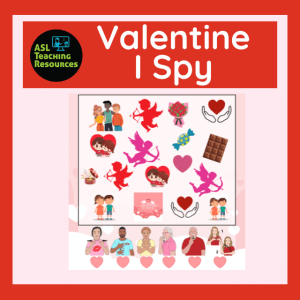 Valentine Dice here.
This Valentine's Day dice game is fun and interactive. Is your classroom ready for it? Your students will love playing this game and learning new words simultaneously! Use these fun ideas to level up this game. Just pull out an old favorite and change it up in a fun way. Make your dice the clue for games like I Spy, Hidden Object Hunt, and Pictionary. Add to the fun by putting in an obstacle course.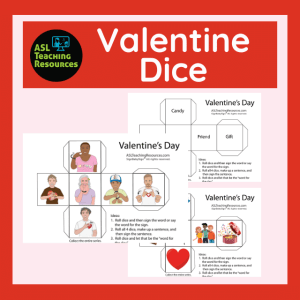 Valentine Scramble here.
Use these no-prep Valentine Scramble printables to build ASL knowledge and skills by putting them to the test! You and your students will have fun while practicing recognizing vocabulary!
Valentine Word Search here.
This no-prep ASL Valentine's Day Word Search is a game that all students and teachers alike will love and feel challenged. Want more challenges – turn this game into an interactive game, Search & Find! Start with searching for each word and then relay around the room to find the items or be the first to draw the item on the board. The first to complete the whole task wins! Make this game more fun by creating an obstacle course that your students must run through between each item they find. Let the games begin.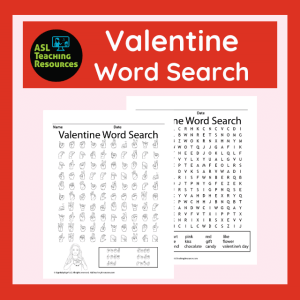 Paper Fortune Teller Game – Valentine here.
Valentine Fortune Teller game is a fun origami craft in full color and black and white! This clever paper fortune teller (aka cootie catcher) provides a unique way to reinforce sign language. So which sign or activity do you think you will get?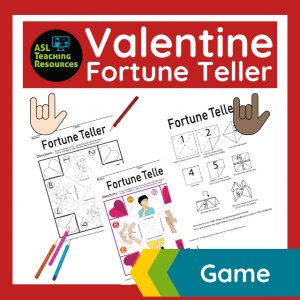 Valentine Vocabulary Printable Game here. 
Valentine Vocabulary makes it more fun than ever to learn sign language. Students learn more about English and the alphabet while matching words to ASL signs. This set is all about Valentine's Day words in ASL. This set has 63 big cards, 63 small cards, and a key to the answers. Get the BOOM Learning decks below.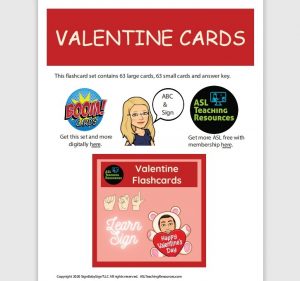 Online Valentine Boom Cards here.
💜 No-Prep February Worksheets 💜
Writing Prompts here.
Number Counting Sweets here.
Counting Heart Frames 1-10 here.
Counting Heart Frames 1-20 here.
Cupid Spin & Add here. 
Candy Hearts Tally here.
Candy Hearts Graph here.

💌 Send Valentine's Cards 💌
Baby Unicorn Valentine Cards here.
Unicorn Valentine Cards here.
Car Valentine Cards here.
Valentine ILY Fingers Card here.
Valentine Bird Card here.
Membership gives you access to hundreds of more ASL resources.
Subscribe to our Youtube Channel.