Description
In this training, Emotions ASL in the Classroom, we'll guide you on how to find and use sign language resources. In addition, you'll hear from 4 professionals on how to approach teacher-child interaction that will directly impact your student's social-emotional needs.
Emotions ASL in the Classroom
5 concepts of social-emotional learning with teacher-child interaction directly impacting your student's social-emotional needs.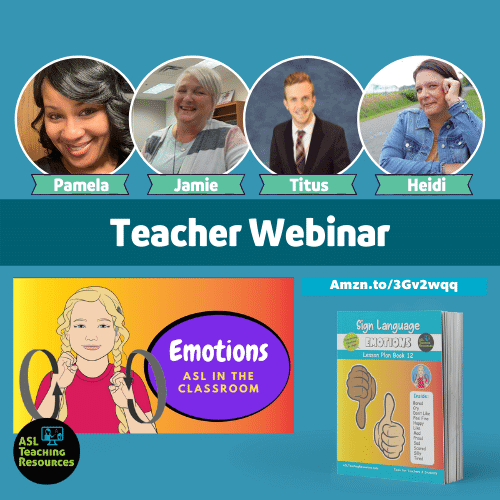 1. Emotional Regulation
2. Support for DHH Students
3. Tools for the Classroom
4. The Impact of a Teacher
5. ASL Emotions Resources
Format:  View and learn from real-life situations in the classroom with the use of the Internet. No books are required. You'll need to be able to download PDFs.
Order ASL Book from Amazon:
Get the paperback version of ASL Lesson Plans from the Sign Club Series.
Already purchased? Go directly to take your course now. Emotions Course Training here
Save time and money by becoming a member. You'll love the benefits of your membership. Click – Print – Teach
For more videos, subscribe to our YouTube here.
You will have 14 days from the date of purchase to complete the course. After that, additional access to this course can be purchased.