Description
Discover the top essential signs for everyday communication and practical implementation strategies in this 1-hour course, ASL in the Classroom: Top Elementary Signs, as you tour an elementary classroom with the owner of ASL Teaching Resources.
Who is this Elementary Signs Teacher Training for?
Are you an educator, aide, or caregiver working with children who use sign language? Empower yourself with the ability to seamlessly communicate with your students using essential sign language skills. Our one-hour course, "ASL in the Classroom – Top Elementary Signs," is your key to enhancing your connection and interaction with all students in an elementary setting.
Classroom Top Elementary Signs Course Description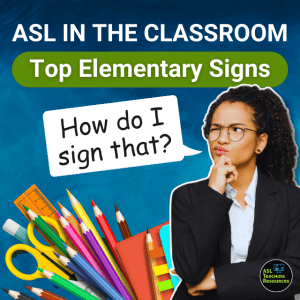 Step into the shoes of a skilled communicator as we take you on a virtual tour of an elementary classroom. This immersive experience will unveil indispensable tools for integrating sign language into your teaching toolkit. With a primary focus on American Sign Language (ASL), this course equips you with the top essential signs that facilitate everyday communication. Plus, we provide you with practical strategies to effortlessly implement these signs in your daily interactions.
Top Signs Course Modules:
Each module includes videos and handouts to track your progress.
You'll end with a quiz that will unlock your well-earned certificate for your professional development.
Daily Jobs: Equip yourself with signs for common tasks and responsibilities, fostering clear communication between you and your students.
Schedule Board: Navigate the daily routine with ease by mastering the signs for schedule-related terms.
Locker/Cubby Area: Enhance organization and coordination through sign language in spaces where students store their belongings.
Sink Area: Facilitate communication during daily activities involving water and hygiene.
Student Area: Strengthen your connection with students by communicating effectively in their personal spaces.
Teacher's Desk: Learn with confidence common signs found in a teacher's area.
Counting/Math: Elevate math education by incorporating signs for numbers and basic mathematical concepts.
Time & Money: Foster comprehension of time-telling and financial literacy through strategic sign language usage.
Calendar: Make important dates and events accessible to all students through sign language communication.
Weather: Engage young learners with signs that bring weather-related lessons to life.
Pledge of Allegiance: Inspire unity and patriotism through sign language during the daily pledge.
Why Choose Us at ASL Teaching Resources:
At ASL Teaching Resources, we understand the significance of effective communication in education. Our course empowers you to break down communication barriers, creating an inclusive and supportive classroom environment. With our immersive experience and hands-on approach, you'll emerge confident and well-equipped to enhance your teaching through the power of sign language.
Enroll today in "ASL in the Classroom – Top Elementary Signs" and embark on a journey of meaningful connections, improved communication, and enriched teaching experiences.
Come curious…leave empowered. Sign up now!
Steps for this online Professional Development ASL training:
Watch the video
Take the quiz
Download PDF
Get a certificate (optional)
Save time and money by becoming a member. You'll love the benefits of your membership. Click – Print – Teach
For more videos, subscribe to our YouTube here.
You will have 30 days from the date of purchase to complete the course. After that, additional access to this course can be purchased.