Description
In this online training, we will share 5 Tips For Using Sign With Autistic Children. We will have guest teachers and parents sharing their expertise.
Many children with autism have been able to learn and communicate successfully via sign language because it is visually based, unaided, and provides a mode of quick communication. It is something that can be easily learned and used anywhere, at any time.
By providing a way for the child to communicate you can help reduce negative behaviors that arise from the child's inability to communicate their immediate wants and needs.
5 Tips For Using Sign With Autistic Children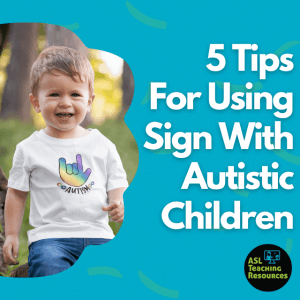 Join us as we learn Tips for Using Sign Language with Autistic children as featured in Autism Parenting Magazine.
Guest Speakers Include:
∞ Teachers of Autistic children
∞ Parents of Autistic children
∞ Deaf individuals sharing their experiences
∞ Autistic trained dog expert
∞ And more surprise expert guest
Format:  View and learn from real-life situations using the 5 Tips For Using Sign With Autistic Children, followed by a time of Q & A of the most popular questions we get asked on this topic. This training ends with a few surprise bonuses to guide you even more as you work with children with Autism. No books are required. You'll need to be able to download PDFs.
After watching this preview, you'll see how easy it is to begin implementing sign language with your Autistic child.
Resources for Autism
If you need to get started right away, see our quick link resources for Autism here.
Get the latest styles of Autism pride fashion and merchandise with the Infinity symbol here.
Save time and money by becoming a member. You'll love the benefits of your membership. Click – Print – Teach
For more videos subscribe to our YouTube here.