Welcome to our online training to teach students online part 2.
Steps for this online training: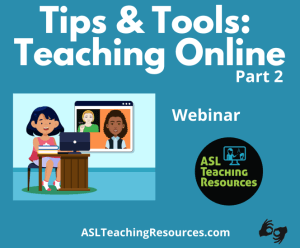 Watch the video
Take the quiz
Download PDF
Get a certificate (optional)
Begin by clicking the dot under "Course Home."
With so many tools and features…
It's hard to know which tools are best for educators.
Who: Those who will be teaching children online, both hearing and deaf.
Description: Discover essential tools for teaching online and student engagement.
What you will learn:
√ Practical tips to get up and running
√ Options to digitally connect
√  Best resources to create online learning
√  Top recommended teacher tools
√  Hidden tools in Zoom
√  Accessible tools for specials needs/ deaf students
You will have 30 days from the date of purchase to complete the course. After that, additional access to this course can be purchased.
Need credit for Professional Development hours? A certificate of completion is available at the completion of the course at no additional cost.
Ratings and Reviews