Sign language can help you achieve your communication goals while also instilling confidence in your autistic student/child. While also providing a tool to assist you with your Autism verbal and nonverbal communication needs.
How should autism be signed? There's no need to go looking for a pen and paper while trying to figure out how it's signed. Scroll down and follow along with the video for a quick and easy lesson.
Signing the Word Autism
The video. a part of the Sign Club series, below shows you how to sign Autism in sign language.
Autistic Children Sign Language Tips Online Course here.

Many children with autism have been able to learn and communicate successfully via sign language because it is visually based, unaided, and provides a mode of quick communication. It is something that can be easily learned and used anywhere, at any time. By providing a way for the child to communicate you can help reduce negative behaviors that arise from the child's inability to communicate their immediate wants and needs. In 5 Tips For Using Sign With Autistic Children hear from guest teachers and parents sharing their expertise in working with autistic children.
Webinar Preview & More.
Click on the 4 bars in the top right-hand corner to see the full playlist and enjoy more videos regarding Autism.

15 Sign Language Advantages Blog here.
Have you ever wondered if there is an autism sign language? Perhaps you've heard of baby sign language or sign language for the deaf, but did you know that sign language can be a valuable communication tool for autistic children? Learn more about autism and sign language. The benefits of learning sign language. How to incorporate into daily routines, classroom strategies, and other helpful hints. Read more…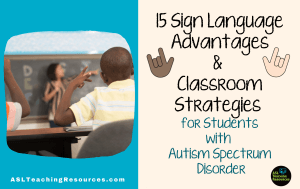 Sign Language with Autistic Children Article here.
In this article 5 Tips for Using Sign with Autistic Children, from Autism Parenting Magazine, you'll discover an amazing tool to meet both your need as a parent/teacher and your child's need to express themselves. You'll read about the 5 tips parents, teachers and other helpers have shared to be successful while working with Autistic children. These ideas have been effective for all hearing and non-hearing autistic students.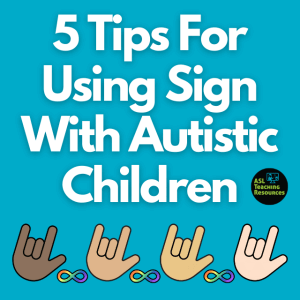 ASL Autism Support Resource List here.
This ASL Autism Support Resource List is the perfect way to get lots of links in one place for learning fun with your autistic students! Educational games, songs, crafts, Boom cards, and more are all here.
Daily Routines in ASL here.
Use these Daily Routines in ASL communication visual schedule cards to enhance communication skills for nonverbal children! Complete with pictures and ASL illustrations for day-to-day activities that can be used for their daily picture schedules. These picture visual schedules are easy to set up and ready to be used.
BEHAVIORAL GAME CHANGER: Great for all children to learn how to create and follow a daily schedule. Children will be able to express themselves to communicate their wants and needs, which will in turn help them to communicate effectively and build their confidence. Bonus: creates a structured environment that they can feel in control of! A must-have for teachers and parents.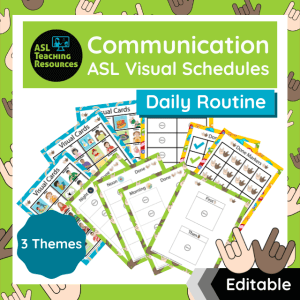 See all the ASL signs in the Daily Routine Visual Schedules below. Click on the 3 lines top right corner to view the playlist.
Safe Hand Kid Safety Stickers here.
Safe Hand Kid Safety Stickers will help keep your kids safer in parking areas when they enter or exit your vehicle by providing them with a fun, safe place to stand. Stick the car decal on your car and teach your kids to put their hands on the Safe Hand. Reduces the desire to play or stray while you complete loading and unloading other children, groceries, and other items.
These stickers are easy to use and come in a variety of colorful colors and designs — hearts, rainbows, and smileys – that are ideal for a child's lively imagination. Your child can choose his or her favorite! In the center of the stickers is a picture of the ASL sign for "I Love You," which children can place their hands on to remind them every time that you love them enough to keep them safe.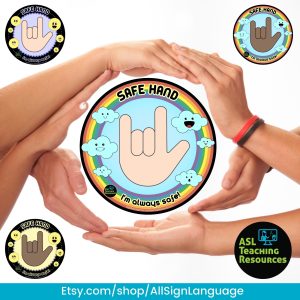 ASL Basic Sentences here.
These Sign Language Basic Sentences are designed for non-verbal students and others who use American Sign Language as their primary mode of communication or those that just want to learn. These sign language printable cards teach an English sentence and the ASL sentence to help build sentence structure between the two languages. These basic sentences and phrases are created to teach students how to communicate in full sentences their wants, needs, and opinions through English sentences and Sign Language.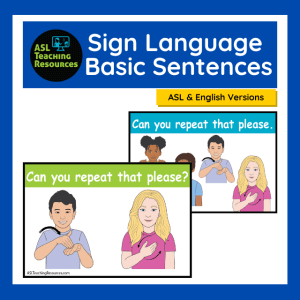 Sign Language Flashcards – Directions here.
Sign language flashcards for directions are an excellent tool for engaging and teaching your students. Perhaps the best thing about them is how versatile they are! Try using these Directions flashcards in your next activity or game.
ASL Flashcards – Alphabet here.
You can develop a strong connection with each letter by using sign language alphabet flashcards. Fingerspelling practice with these alphabet flashcards improves letter recognition and motor skills.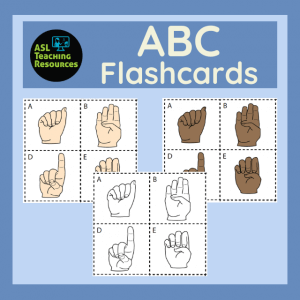 ASL Numbers 0-50 here.
Students will benefit from these number flashcards as they learn to count from 0 to 50 in sign language. This is a fun and engaging way to practice numbers at school and at home. Helps students learn numbers in English and Sign Language.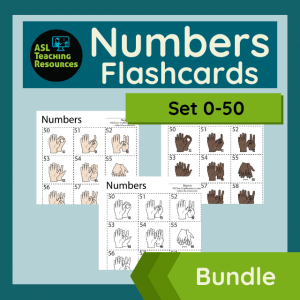 Coloring Sheets Autism Awareness here.
Every day and during  Autism Awareness Month it is so important to take the time to bring awareness to our children. You will find these autism awareness coloring sheets will be a fun activity for reinforcement at school and at home for all children, hearing, deaf, ESL, or special needs.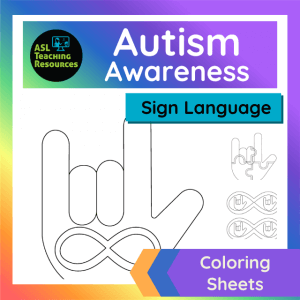 This Classroom Job Charts ASL printable is the perfect way to build responsible leaders in your classroom by giving your students responsibility. Class helper charts are an excellent tool to build class community and accountability and have a behavior management tool at the same time. Win-win!  
Perfect for classroom jobs for special education because you have the added benefit of picture cards and sign language for reinforcement. You can customize this class job chart for your home or classroom and style by choosing your favorite title card and the editable class job that works best for your students.
Flashcards Classroom Labels here.
These ASL flashcards classroom labels feature different items that are commonly found in classrooms. These sign language flashcards are designed to help children learn ASL and it gives them activity for reinforcement. Post to walls, objects, or use as flashcards. A great learning tool for students at home or in the classroom.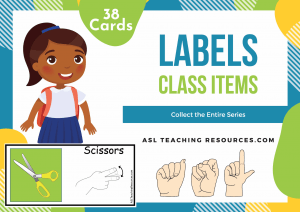 Emotions with Mood Dog here.
The Worksheets for Emotions – Mood Dog are great learning tools to help students identify and understand different kinds of emotions. This worksheet set comes with different sets of activities revolving around the concept of emotions. Students will enjoy these activity sheets thanks to the well-illustrated and easy-to-follow directions. At the same time, learn signs for common emotional words, and even create their Mood Dog!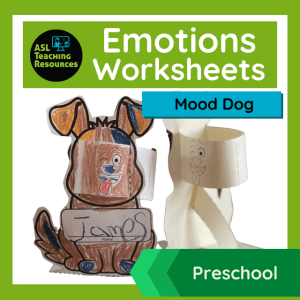 ASL Back to School here.
Teachers, get ready for some creative ideas and resources to help you welcome your students back to school. Materials with sign language support for hearing and deaf, special needs, and ESL students.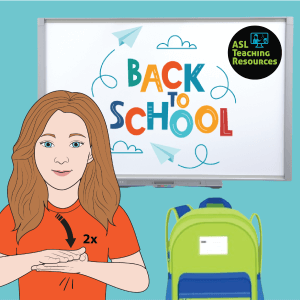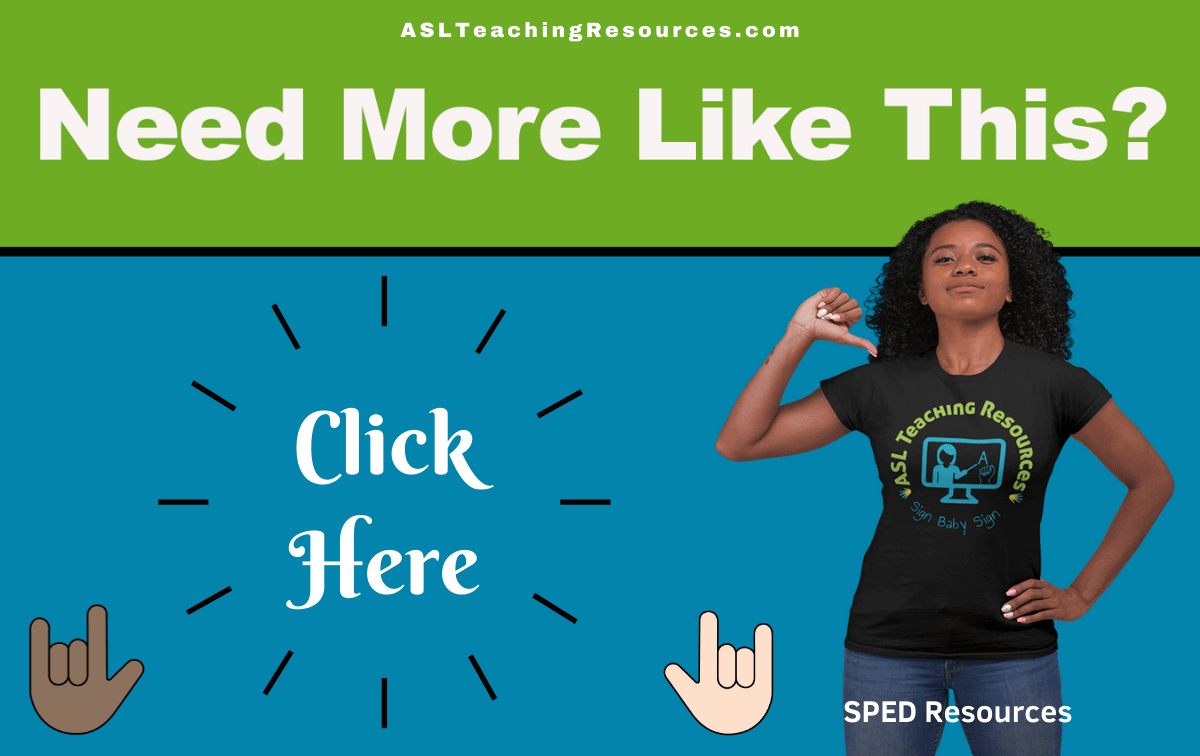 Membership gives you access to hundreds of more ASL resources.
Subscribe to our Youtube Channel.