Description
Welcome to SPED Classroom Must Haves. In 5 easy steps, we will give you all the tools you need to be successful whether you know sign or not.!!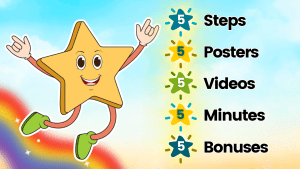 This course is the perfect way to learn the bare basic signs to start communicating with your students in a new and meaningful way.

What's Included for SPED Must Haves
Online Course: SPED Classroom Must Haves in 5 Steps

3 Models
5 top sign videos
5 top sign posters/wall charts
5 Bonuses
Extra super special bonus
.5-hour Professional Development (Certificate)

Objectives for this Free Sign Language Course

Learn and Master the Top 5 Signs: Dive into the world of sign language as you learn and confidently master the top 5 signs. Our expert instructor will guide you through each sign, ensuring you grasp the basics and understand the nuances that enhance your proficiency.
Discover Pro Tips for Sign Fluency: Elevate your sign language skills with insider tips and tricks. Gain invaluable insights beyond the basics, enabling you to communicate more effectively.
Immediate Integration into Classroom Dynamics: From day one, you'll be equipped to integrate sign language into your classroom environment seamlessly. Use your newfound sign language skills to break down communication barriers by engaging with verbal and nonverbal students.
Instant Access to Classroom Decor Posters: Enhance your learning space with professionally designed posters featuring the top 5 signs. These posters not only serve as visual aids but also promote a sign-friendly atmosphere in your classroom and reassures everyone how to sign.
Expand Your Vocabulary with 5 Extra Necessity Signs: Broaden your sign language toolkit by acquiring an additional set of 5 necessity signs tailored for the classroom. Empower yourself to address various everyday scenarios with ease and confidence.
Extra Support: Benefit from additional training support sessions, where our expert instructor will address different topics monthly.
❤️ Access to Bonus Resources: As a valued course participant, you'll gain access to additional free resources that offer extended support for your sign language in the classroom journey. These resources provide ample opportunities to learn more, refine your skills, and cater to diverse student needs.

Enroll now to embark on a transformative learning experience beyond language acquisition. Unite students, foster inclusivity, and create an environment where communication knows no bounds. Whether you're a teacher, educator, or someone passionate about effective communication, this course is your gateway to a more connected classroom and beyond.

Requirements: Access to the internet and printer.
Already purchased? Click here. Memberships Here

You will have 30 days from the date of purchase to use the course. After that, additional access to SPED Classroom Must Haves can be purchased.
You have lifetime access to the products and handouts in this ASL Course as long as you download them and save them to your device within 14 days.

More Topics coming for the Signing Stars for kids

Basic Words
Shapes
Directions
Answers
Food
Bathroom
Holiday Part 1
Holiday Part 2
School Days
Animals

Outdoors
Emotions
Weather
Manners
Clothes
Calendar
Numbers
Money
Colors
ABCs
Family

Visit our Amazon Store Subscribe to our YouTube Channel

Save time and money by becoming a member. You'll love the benefits of your membership. Click – Print – Teach. Ask your school or district (or your mom-LOL) to fund your membership.