One of the first steps in mastering Emotional Intelligence for any student is self-awareness which starts with a strong foundation of understanding emotions. By exploring emotions through activities students' knowledge can grow in identifying and understanding emotions. Students' feelings matter and affect how they will continue to learn and thrive throughout school and later into adulthood. Happy students will be more willing to stay on task, focused, and welcome new learning experiences. While students who are anxious or scared will shut down or withdraw, avoiding new learning experiences. Emotions are powerful and the effect they have on learning is undeniable.
Teaching Children Emotional Intelligence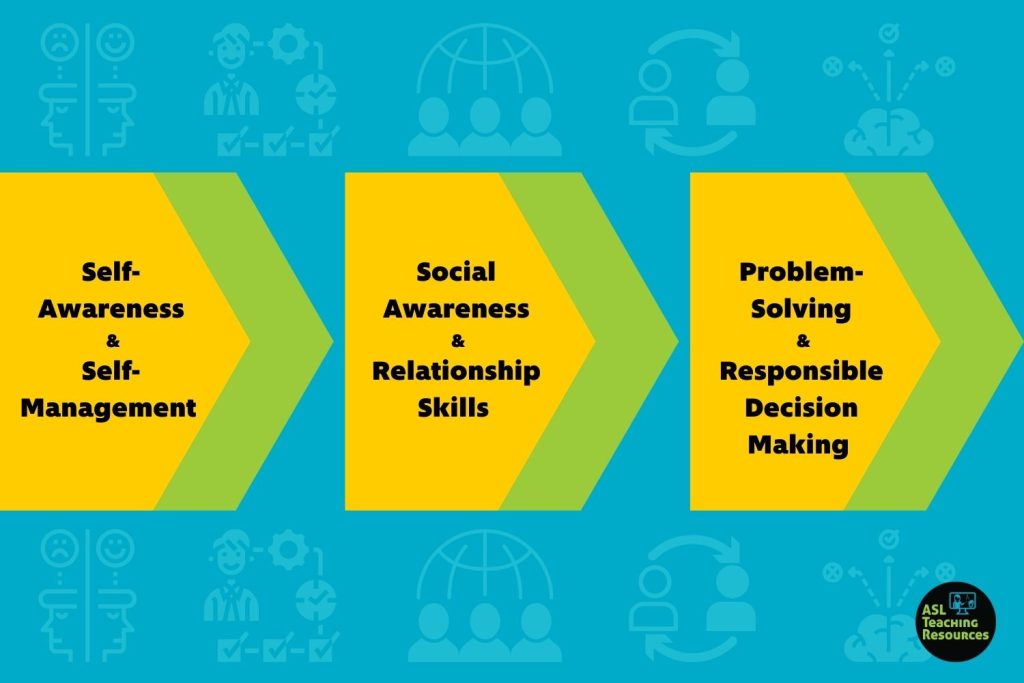 Emotional Intelligence can be broken down into three main skill groups. The first group of skills is self-awareness and self-management: the ability to recognize one's own emotions and to cope with that emotion. The second group is social awareness and relationship skills: the ability to understand (empathize) others' feelings and effectively communicate and work with others. The final group is problem-solving and responsible decision making: the ability to make goals, implement positive behaviors to reach those goals, and resolve conflicts constructively. In conclusion, building a foundation in self-awareness will lead to self-management which leads to social awareness and so forth. Exploring these emotions through daily activities will enhance this foundation.
The Collaboration for Academic and Social Emotional Learning (CASEL) defines self-awareness as, "The ability to accurately recognize one's own emotions, thoughts, and values and how they influence behavior. The ability to accurately assess one's strengths and limitations, with a well-grounded sense of confidence, optimism, and a 'growth mindset." Therefore, you are self-aware when you can recognize your emotions (you can not self-regulate if you are unable to recognize the emotions first), identify triggers, and empathize with others. 
Emotions are an essential part of who you are. However, they can be messy, complicated, and downright confusing sometimes. Knowing how to name them and talk about them — with both yourself and others — is a key part of developing emotional health. Daily activities for exploring emotions is easier than you might believe consequently leading to more open discussions with your students.
10 Activities on Self-Awareness for Students 
Social-emotional learning is essential to our students, now more than ever. Where and how to start, is a very common question. The best strategy is to start incorporating activities throughout your day, exploring emotions through activities. We have compiled our 10 favorite Self-Awareness activities to help you get started. You might be surprised by how many activities you already do. 
Party games are super fun to play. They also offer unique opportunities to work on emotional awareness for your student/child. Playing simple games like musical chairs, Simon Says, Red Rover, etc offers simple & fun ways to work in SEL throughout the day. The ASL Emotions Flashcards can easily be used to create several different activities.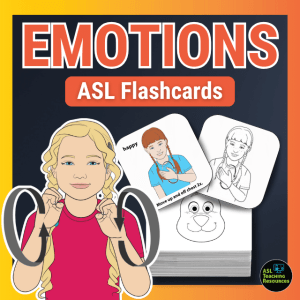 Playdoh playtime has many developmental benefits but it can pull double duty here. Use/make Feeling playmats. They are super easy because you only need an outline of a face, and you are ready to go. No playmats, no worries. Use your playdoh to make the many faces of emotions on a safe surface.  For a little added interaction, use the ASL Emotions Fortune Teller Game and create responses to each round with the playdoh.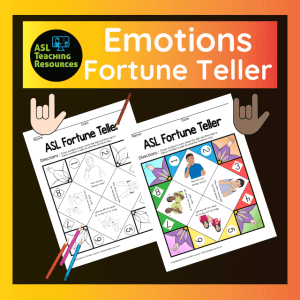 Emotions are silly and funny to play around with. Try using plastic eggs, mega legos, rocks, or make a face flipbook to make different types of expressions of eyes and mouths. Mix them all up and have some fun. The ASL Emotions Dice Game can add additional fun, roll the dice and see who can create the emotion the quickest.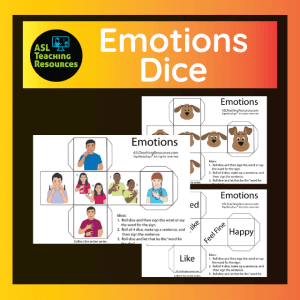 Emotional check-ins can come in many different sizes and ways. Displaying the Emotions Wall Chart in the classroom adds daily visual reinforcements. For a hands-on activity, let me introduce you to the adorable Mood Dog.  This little pet loves expressing emotions from happy to tired. For this activity cut and color your dog and his collection of faces. Place the feeling you want your mood dog and set him out for the dog show. What's your mood dog name going to be?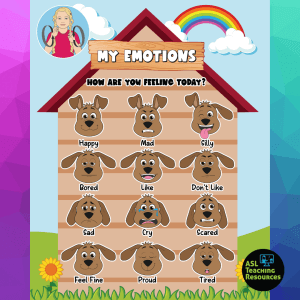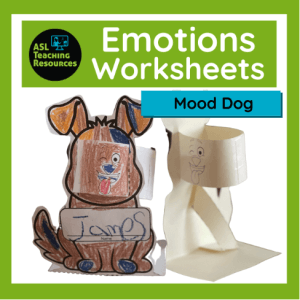 Make a Self Collage. Create a collage station packed with magazines or magazine clippings, paper,  glue, scissors, crayons, or markers. Pick the images you want to use, and outline a face on your paper. Next, take clippings and place them onto the face outline till you create a face and design away. Add details or a pop of color to complete this activity.
Create a Me Tree. This activity needs paper, a pencil, and coloring pencils. Start by tracing your hand and wrist on the paper (tree trunk), turn the fingertips into as many branches as you like, and add leaves to your branches (remember to make your leaves big enough to write or draw in). Now add a line at bottom of the paper about an inch or so up for the soil for your tree. Fill in each section from bottom to top as follows. Fill in the soil are with answers to "I am supported by..". The tree trunk will be filled with answers to "I am grateful for…". The leaves will be filled with answers to "I love….). Coloring is completely optional.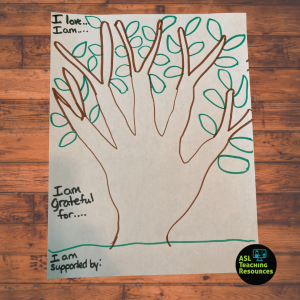 Emotions Wheel is a simple activity all you need is paper, a pencil, and markers. On a piece of paper draw a big circle. Divide this pie (circle) into as many slices as you need and label each with emotion. Now in each slice, you can draw an image or paste images for each emotion. 
Personal Identity Wheel, a worksheet activity that encourages reflection on how we identify outside of social identifiers. The worksheet prompts you to list adjectives you would use to describe for yourself, skills you have, favorite books, hobbies, etc. This activity is great for a group discussion or as writing prompts.
Mindfulness/Mindful Meditation is exploring the inner mechanics of our emotional, mental, and physical processes. When we are practicing this type of meditation we suspend judgment while focusing on the inner workings of our minds. We all have mindfulness, we just have to focus to see it's always been available to us.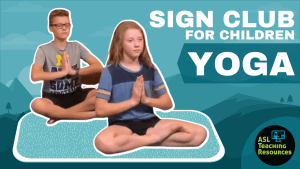 Yoga promotes social-emotional development. It can help with stress, depression, attention deficit issues, and anxiety. While also improving one's physical health, psychological well-being, academic performance, and social relations. 
7 Emotional Regulations Coping Skills Strategies
Model calm behavior gives a visual example for the students to model. 
Daily Emotions Check-ins allow focusing on what the student might need at that moment.
Deep breathing exercises allow the student to recognize triggers and calmly work through them.
Positive affirmations build self-esteem which leads to better feelings about oneself.
Play mindful games
Brain/movement breaks allow the student to think and/or move to help them stay calm.
Establish a sensory diet, of physical activities/accommodations to meet their sensory needs.
The 4 Zones of Regulations
The Zones of Regulation, rooted in cognitive behavioral therapy, is a framework that uses four colors–blue, green, yellow, and red–to help students identify their feelings and level of alertness. Support the Zones of Regulation in your classroom or at home with these Emotion resources to create a new twist to some of your favorite games.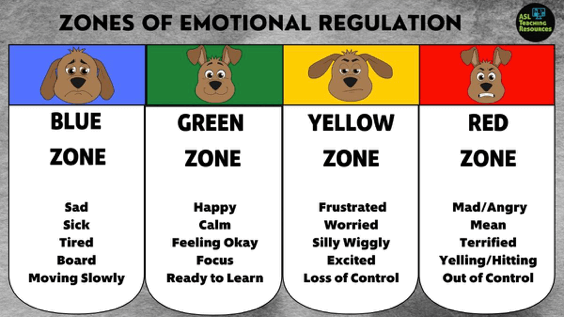 Free Sign Language Gift for you: Click Here!
Join us for our complimentary webinars. Reserve your spot today here.
Looking for additional resources for your classroom? Check these out below.
The Elementary School Counselor 
3 Engaging Teaching Feelings Games
Teach Resiliency in your students
15 Activities for Teaching CASEL Core Competencies 
ACT for Youth SEL Learning Toolkit 
Confident Parents Confident Kids
4 Social/Emotional Skills You Can Easily Practice With TEENS
SCERTS & Emotional Regulation: What's The End Game?
Autism Level UP! Presents All the Feelzzz