Description
Have you ever wondered how to communicate with someone who is deaf? This Deaf Awareness Freebie poster depicts nine practical ways to assist someone who is Deaf or hard of hearing, designed to promote inclusion by allowing people of all ages to communicate with the Deaf. It is essential to share with others during Deaf Awareness Month and Deaf events.
Deaf Awareness Communication Tips/Ideas:
Display these 9 Ways to Communicate posters are ideal in a classroom or workplace. Your students and staff will find these Deaf Awareness posters concise and easy to follow, making them easy to implement.
These Deaf Awareness resources measure 8.5" x 11" and are designed for an easy 1-page print. It is an effective way to support local disability awareness events. Show your community your love and support by involving and informing them about these Deaf Awareness Freebie communication tips.
Deaf Awareness Posters Include:
·      Full color
ASL Awareness Freebie poster size:
8.5 x 11"
Get the 9-page full set of posters and pocket sizes for your Deaf Awareness Day or Deaf Awareness Week.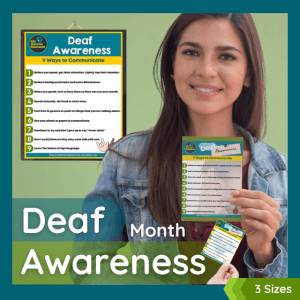 Tips for Using Deaf Communication Printables:
1.    For best results, print on cardstock
2.    Put your deaf awareness posters in a frame
3.    Take a step further and print smaller versions of the poster to give away.
Displaying Deaf Awareness Posters is one of the many annual Deaf Awareness event activities. With a simple search, you can find a variety of ways to show support. Involve yourself and be the influence for having an inclusive and active environment for people in your community.
🤟🏻 Read our ASL in the Classroom Blog here.
Love this product? Learn how to get this free!
Subscribe to our YouTube here.