When Is Deaf Awareness?
Deaf Awareness Month is an event held annually in September to raise public awareness about deafness and promote understanding between people who hear and those who are Deaf or hard of hearing. These 4 Tips for Deaf Awareness Month will help you on your Deaf awareness journey.
Ideas for Deaf Awareness Month
Dedicate time to raising awareness about Deaf culture and educating the general public about deaf issues with these 4 Tips for Deaf Awareness Month.
Create Deaf Awareness Today!
Get involved with Deaf Awareness.
Attend a deaf event. These can be found by a quick google search or by contacting your local interpreting agency.
Learn Sign Language and be involved in their world, their language.
It's fun to learn and helpful in communication. Begin learning for the workplace, a school club, a church, or simply for yourself.
Share on your social media to bring awareness.
With one click, you can do this easily by sharing this blog.
Print your free Deaf Awareness poster.
Deaf Awareness Tips Poster
Hang it in your school or workplace, and share it to help get the word out to support deaf and hard-of-hearing students and adults. Click on the image to get yours free.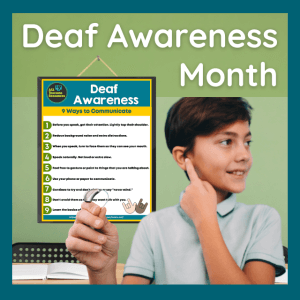 Deaf Awareness Week or Month: provides opportunities for people to learn more about deaf culture and share their experiences with others. Deaf children face many challenges when they enter school. They often need special accommodations and may also struggle socially. Help them and others with these awareness posters.
Celebrate Deaf Awareness Day or Week with these four unique designs in three sizes that are perfect for your classroom boards.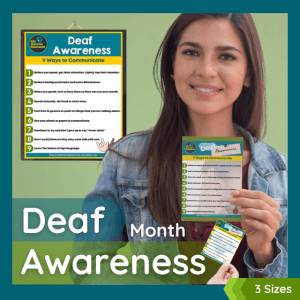 Deaf Awareness Gift for You!
Do you want to incorporate Deaf Awareness into your regular classroom activities? We have the perfect gift for you. Use this Gift Card on games to incorporate deaf awareness and entertainment into your students' daily activities.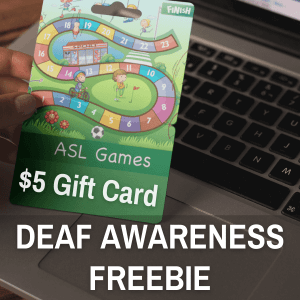 Check out the 7 Helpful Listening Skills Examples for Classroom Teachers. Listening is a skill that everyone requires, including those who work with deaf and hard-of-hearing children.
If you are interested in learning more about deaf student-based resources or learning sign language, consider joining ASL Teaching Resources. You can find out more about us here.
Subscribe to our YouTube Channel