Description
This spooktacular ASL Storytelling: The Great Halloween Party video will be a welcome addition to your holiday-themed activities. This creative story follows Mrs. Witch in her classroom as she prepares her students for the Great Halloween Party. Join Mrs. Witch and her little monster on this Halloween classroom journey to learn how to ask for candy politely. While also learning how to sign Halloween vocabulary in Sign Language.
🎃 ASL Storytelling: The Great Halloween Party YouTube video is read aloud in English and shown in Sign Language. This spooky fun book promotes literacy and the acquisition of ASL and is perfect for hearing, Deaf, and ESL children.
ASL Storytelling: The Great Halloween Party Vocabulary
Bat, Black Cat, Candy, Costume, Ghost, Monster, Halloween, Scared, Skeleton, Spider, Trick or Treat, Witch
How to get your ASL Halloween Storybook
👻 Take your Halloween fun to the next level.
Add this Halloween ASL storybook to your home or classroom library today!!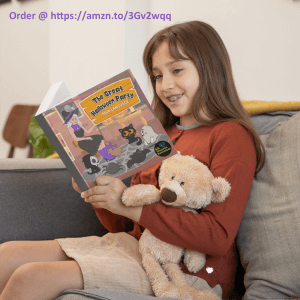 The Great Halloween Party Storybook includes
• English and Sign Language
• ASL Vocabulary Signs and Images
• 2 Coloring Pages
• 2 Halloween Hunts
• 2 Matching Sheets
• A Boo-tastic Maze
• YouTube ASL Storytelling video
The Benefits of ASL Storytelling
According to the American Society of Deaf Children (ASDC), "Research shows that reading and signing stories together helps promote essential literacy skills for ALL children: deaf, hard of hearing, and hearing."
🤟🏻 Storytelling with Sign Language has numerous advantages:
1. Language Development.
2. Skills in listening and verbal/nonverbal communication.
3. Thinking and problem-solving skills.
4. Inspires imagination and creativity.
5. (Bi)literacy skills expanded.
6. Cultural appreciation.
7. Bonding and relaxation.
👻 Additional Resources 👻   
Collect more Halloween fun here.
ASL in the Classroom Blogs here.
Sign Language Books on Amazon here.
Subscribe to our YouTube channel.
🎃  Sign Language in the Classroom: Quick Guide here.
Love this product? Learn how to get this free!