Are you wondering how you can learn ASL in a fast and easy way? How to learn ASL fast and easy guide will tell you how and where to begin.
Although there are no shortcuts to learning a language, we have a few ideas to get you started on the path to success. One of the easiest ways to learn Sign Language is through YouTube tutorials, but be sure you are learning from someone in the United States and a credible source. Find plenty of free lessons on signing the alphabet, common phrases, numbers, and more here.
You can easily learn with Sign Language classes. These classes will cover the fundamentals of American Sign Language used by the Deaf community, including vocabulary, syntax, grammar, semantics, language in use, and basic information on Deaf culture. These classes allow you to focus on developing language and communication skills.
Who are Sign Language Classes for?
Taking a Sign Language class is right for you…
If you've always wanted to learn American Sign Language and can't wait to finally get started!
If you want to reach a comfortable conversational level of ASL and see progress right away.
If you want to refresh your ASL skills and perfect your ASL grammar.
If you want to get a better understanding of Deaf culture.
If you enjoy learning online and don't have the time or money to sit in a classroom.
If you want to learn ASL as your foreign language (great for homeschoolers).
If you want to go at your own pace and have a place to review as often as needed.
If you are a teacher wanting to communicate with your deaf and hard-of-hearing students.
If you are a parent with a child needing sign language.
If you have a friend at work, church, or the community you want to have conversations with.
Did one or more of these describes you, then what are you waiting on? Get started learning American Sign Language the easy and fast way.
Learn the ASL Alphabet
The easiest way to begin learning Sign Language is with your alphabet. Knowing the alphabet will give you the skills to sign any word. So, if you forget a sign you can simply spell it. Take a moment to learn your ABCs, and then practice spelling your name. Be sure to download your Alphabet flashcards to take with you on the go for more practice. For children, use our online alphabet games for hours of fun.
Learn ASL Basic Vocabulary
At the beginning of your ASL journey, you should aim to learn the essentials. Get a copy of our favorite ASL Dictionary book. You will be able to construct sentences after learning some words.
Are you like me? If so, you will want something small enough to fit in your pocket. Below is the book I used to learn ASL when I was younger. It was small enough to fit in my bag. I would carry it around with me while I was learning.
Use the online free sign language dictionary to see how these signs are signed and don't forget to check out our ASL Word of the Day Podcast for our visual learners.
Learn with Free Sign Language Lessons
You can learn ASL online anytime and anywhere. You can begin your ASL journey with our 5 free basics lessons. Designed to help you quickly and easily learn the basics of ASL. We also offer a variety of  ASL resources for those wanting to learn more about having conversations with sign language.
ASL Lessons for Homeschoolers, Teachers, Parents, & Professionals
We offer ASL lessons for homeschoolers, teachers, parents, and professionals. You can watch ASL lessons anytime, anywhere!
You will also learn ASL culture, history, grammar, vocabulary, and more.
If you want to learn ASL, we recommend enrolling in our ASL lesson level 1. These ASL lessons cover everything you need to know to start communicating in ASL.
Learn with Online ASL Courses
You will be having conversations in just a matter of weeks!
We offer ASL courses online so you can learn ASL quickly and easily. Our ASL courses teach you how to sign simple phrases, sentences, and even entire conversations. With these ASL courses, you will learn how to communicate in Sign Language in just 60 days.
You will walk away with not only new skills but also a resource to reinforce what you just learned.
Get ready to communicate without speaking a word.
Are you interested in learning more? Ready to learn American Sign Language? Get started on your journey of learning a new language today. Learn ASL in 60 Days!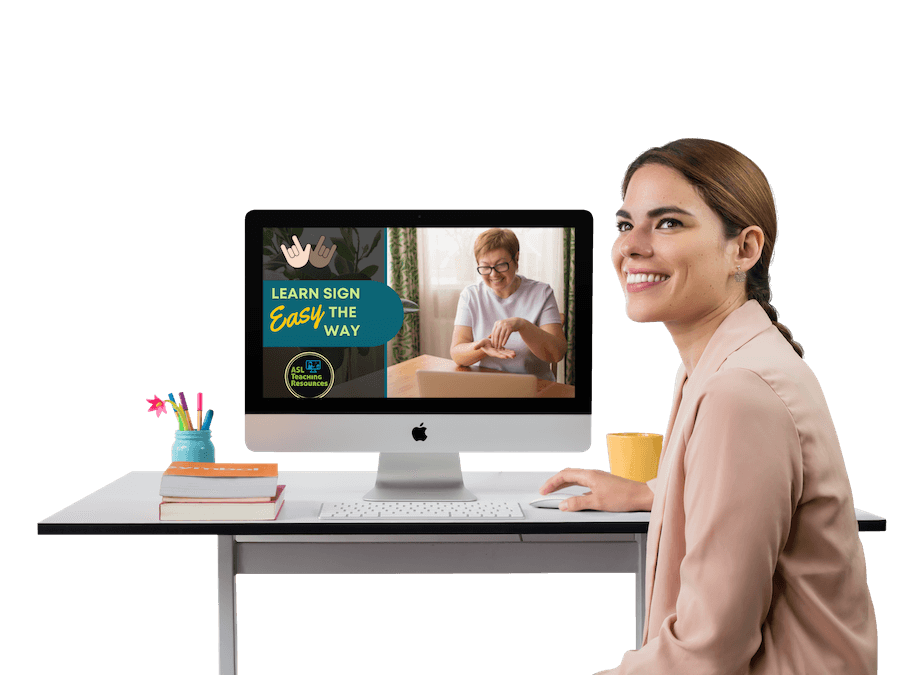 Ideas for Sign Language Beginners
Take a Sign Language class.
Learn online by watching videos.
Join a sign language group or a deaf club.
Visit a deaf church.
Go to Deaf events.
Hire a private, qualified Sign Language tutor.
Watch and mimic interpreters.
Ask your Deaf friends and family teach you.
Use an App.
Take the Free ASL Boot Camp online course.
Start a Sign Club at your local school or with your children.