The BEST Halloween Printable Coloring Pages
These Halloween printable coloring pages come with lots of spooky games. Halloween is a great time to play fun games and learn Halloween sign language at the same time! These Halloween fun ideas feature different Halloween-themed signs that you can use for teaching ASL in a fun and engaging way.
Free Halloween Coloring Pages ⬇︎ Scroll down ⬇︎
Order your Halloween Book here.
Sign Language Halloween Vocabulary Included
Sign language Halloween book focuses on 12 words:
Bat, Black Cat, Candy, Costume, Monster, Ghost, Halloween, Scared, Skeleton, Spider, Trick or Treat, Witch
Halloween Coloring Pages Included
12 fun Halloween coloring sheets with the sign language hints
12 Halloween coloring sheets with sign language characters
2 use your imagination sheets
Halloween Game Printable Included
Halloween Mazes ASL
Halloween Word Scramble ASL
Halloween Bingo ASL
Halloween Word Search ASL
Halloween Fortune Teller / Cootie Catcher
Halloween Dice Game ASL
5 benefits of this ASL Halloween Book
Teaches children to sign
Games to play with friends
Improve critical thinking with puzzle activities
Learn to follow instructions
Encourages creativity and boosts imagination
Sign Language Halloween Words Signed
Ever wonder how to sign Halloween Words?  We've created a video just for you. See it here or watch it below.
Learn Sign Language for Halloween Part 1
Learn Sign Language for Halloween Part 2
7 Best Halloween Jokes for Kids 👻
How do you fix a broken jack-o-lantern? With a pumpkin patch!
What do witches ask for at a hotel? Broom service.
Why are graveyards so noisy? Because of all the coffin!
What do ghosts eat for dessert? Boo-berry pie.
Why don't people like Dracula? He's a pain in the neck.
What's a mummy's favorite type of music? Wrap.
Why didn't the skeleton cross the street? He didn't have any guts.
Halloween Online Games Freebie
Looking for fun interactive games to play Halloween games online?  Check out our ASL online Halloween Vocabulary Games in our Teachers Pay Teachers Store here. 
FREE Halloween Online Game from our Boom Learning here. 
The free online Halloween game includes 2 words and 11 cards to play while learning Halloween signs. Search by its title "ASL Halloween Sign Language Vocabulary". You'll see the freebie as well as the full deck for Part 1 and Part 2 for more Sign Language Halloween fun!
Free Halloween Coloring Pages
Get your free download of a sample of this 60+ page Halloween printable coloring and activity book. Click here.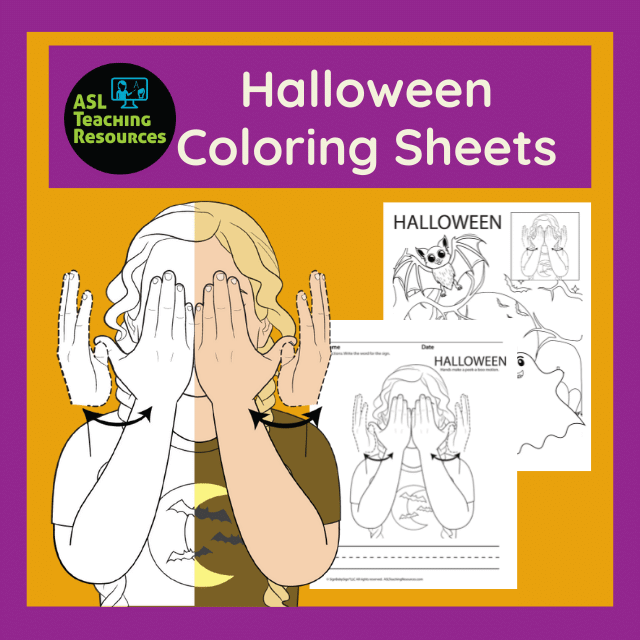 Halloween Coloring & Activity Book with ASL. Get the printed version on Amazon
Get the Printed Version on amazon. Click here.
Halloween T-Shirt with Sign Language
Get your Halloween T-Shirt. Click here.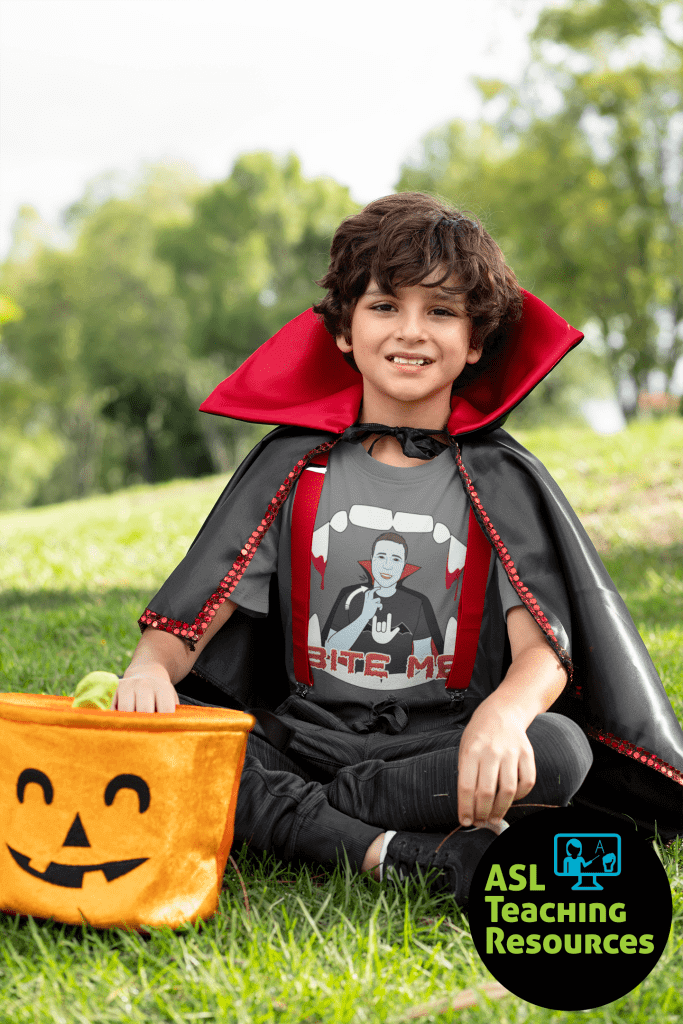 Want the ASL Halloween Resource List? Get it for free here!
⭐ Halloween Book on Amazon here.