Description
Be organized this season with the ASL Student Planner – Spring! This planner is ideal for students because it includes weekly plans that are both undated and editable. In addition, students will find it easier than ever to stay on top of their schedules with illustrations in English and Sign Language, whether they use the printable version or the Google Slides™ version.
The ASL Student Planner – Spring is entirely customizable, allowing you to enter your events and use them solely on your computer or print it off for offline access. These unique planners, designed with Sign Language fans in mind, are 8.5″ x 11″ and can accommodate all your critical information. It's an excellent method to keep track of your weekly plan and become your go-to for arranging your academic and extracurricular calendars.
Five (5) duplicate files are included for five (5) different weeks, ideal for use throughout Spring! Each editable planner contains four (4) pages with functions:
Weekly assignment list for four included subjects (Language Arts, Math, Science, Social Studies) and two extra blank spaces
Assignment and To-Do checklist with extra space for notes
Daily Time Tracker (7 AM – 5 PM)
Class Information List
BONUS! Student Planner Google Slides™ version included!
As an added benefit, the ASL Student Planner – Spring includes a Google Slides™ version that allows you to share numerous copies with your students while preventing you from losing your progress. Customized instructions are given for your convenience. Be organized with the ASL Student Planner – Spring and make this semester your best yet!
This planner is a digital download and not included in membership benefits. These are non-refundable products.
Shop for more calendars and planners here.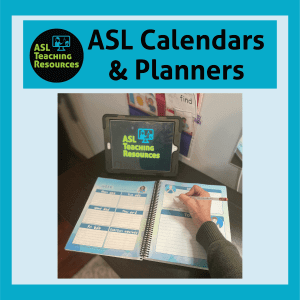 Seven Planner/Calendar Pro Tips for Students
Schedule study times
Write down assignments
Plan and review daily
Use your checklists
Practice your ASL numbers daily
Establish a practical daily routine
Color-code your calendar
Time Management
Simply said, time management is the capacity to plan, organize, and regulate your time. Planning your time will help you reach your goals. Finally, good time management prioritizes tasks that yield results over simply being busy. You will be more productive and efficient if you do it correctly. You'll also have less stress and more personal and professional development opportunities. Controlling your time will assist you in developing a solid professional reputation.
Our Top Picks for Time Management
👉 Additional Resources 👈🏼
Collect More Calendars here!  
ASL in the Classroom Blogs here.
Subscribe to our YouTube channel.
Love this product? Learn how to get this free!