Want a better way to decorate a plain water bottle? Back to School Water Bottle Label designs will add flair to the start of a new school year.
How do you make back-to-school special? Give your students a personalized water bottle to make your Back-to-School events more exciting.
The labels measure 7.75″ x 1.5″, designed to fit standard 16-20 -ounce water bottles. The inclusion of sign language will be a warm greeting for diverse students. These Editable water bottle labels will be the uniqueness you have been looking for the get your year started on the right track. Ideal for all grade levels!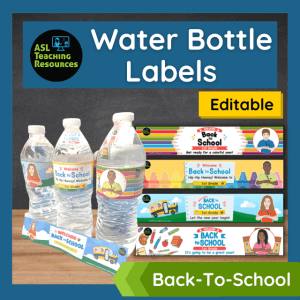 Gifts for First Day of School
Begin the school year in style with these printable water bottle labels that make a great inexpensive student gift. You will find many uses for these motivational labels for all grade levels for your special events: back-to-school, Meet the Teacher, Open House, and more.
First Day of School Gift Ideas
Use these Water Bottle Label Designs Back to School for Welcome Back To School treats. Add a silly straw and flavored powered drink packets to the mix. As a bonus, pair it with candy or chips for a quick snack.
Combine your water bottles with labels alongside these Student Award Certificates to make your students proud. Use on a daily or weekly basis can motivate them to earn more achievement certificates through their work.
This First Day of School Gift is Perfect for…
Back to School party
Open House
Meet the Teacher
Student Recognition
and more.
Water Bottle Label Designs include: Grades 1-12
Editable
Full color
Black and white
4 Welcome Slogans:

Let the new year begin!
Hip Hip Hooray! Welcome to.
It's going to be a great year!
Get ready for a colorful year!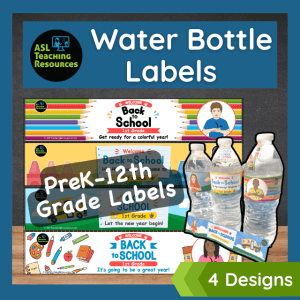 How to Label Water Bottles for School:
Print
Laminate
Cut
Tape to bottles
See the video for this product here. 
Want more fun ideas for your children? See our Sign Language Games.
Subscribe to our YouTube here.
What water bottle labels would you like to see next?
Click on the image below to let us know!