Teaching is a noble job. This teacher resource kit will help you with this huge but fulfilling responsibility. As a teacher, it takes a lot of patience and careful planning when teaching students and planning for lessons, respectively.
A Teacher Resource Kit for Our Amazing SPED Teachers
ASL Teaching Resources offer you this teacher starting kit for students who use American Sign Language (ASL). By using this new teacher starting kit, you don't need to create your ASL content that would usually take hours. We take care of that — and we are giving you this age-friendly, easy-to-use, and teach FREE gift. This is ideal for those working with SPED (Special Education students), deaf, hard-of-hearing, and yes even for educators wanting to incorporate sign language into their classroom as a second language. 
This teacher resource kit aims to help YOU help your students. From grammar, reading, writing, solving math problems, games, and more, this teaching resource kit is guaranteed to be engaging and fun material for your students. This is a great resource for special education students of all ages and will be a lot of help for ASL teachers… including YOU!
Click here for your FREE Teacher Starter Kit!
ASL for the Classroom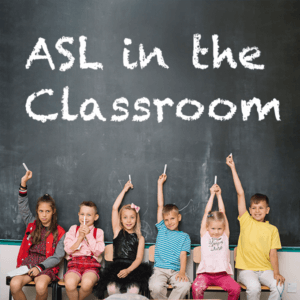 Learning American Sign Language (ASL) can be overwhelming, especially when you just got a student that relies on signing to communicate. Or perhaps you're the kind of teacher that wants to incorporate using sign language in the classroom for your morning meet-ups.
First of all,  be at ease, it is not necessary to become fluent in American Sign Language. In this course, we show you amazing ideas and how to begin incorporating ASL in the classroom with ease. But the more you use ASL in your class the more it will lessen distractions and noises while the class is ongoing.
Through this ASL in the Classroom training, you will learn how to have engaging and fun learning tools in teaching ASL to ESL, SPED, hard-of-hearing, and deaf children, and yes, your hearing students. You will want to take advance this unique opportunity by enrolling in the online "ASL in the Classroom" training here. And the great news is, Professional Development opportunities are available through the course. 
Labeling Your Classroom
Labels are essential, especially for primary grade and special education classrooms. Cleaning up toys and other classroom stuff is a lot easier and faster. Students won't have to ask the teacher where the classroom objects are.
Basically, labeling makes our life more convenient and life-changing. Here are tips on labeling the classroom that is suitable for young students.
Create labels both with words and visuals.
For bilingual/ESL classrooms, use labels in both languages.
Use simple or generic terms like "blocks", "paper", "chair", "paint", and so on regardless of their material and composition.
5 Quick Tips to keep your class engaged with Sign Language labels:
Refresh the classroom layout and start together with the incoming school year by labeling everywhere you can with ASL Flashcards.
Design the classroom in a way that students will love to go to every day using Wall Charts to reinforce vocabulary.
Set a specific time each day to learn a new sign with your class (morning meet-ups, carpet, or storytime). Use the FREE ASL Word of the Day podcast.
Tape visual sign-supported flashcards inside of books for children to learn signs as they read.
Be open to new teaching strategies and step out of your comfort zone by learning signs yourself.
You'll want these FREE flashcards sample set as a supplementary learning tool or for labeling common objects in the classroom.
Create Engaging Student Lessons
Let ASL Teaching Resources get you started and grow your student engagement through our new teacher starter kit. This resource learning tool contains tips and strategies, all in printable forms that the students will enjoy answering.
Get your free teacher resource kit here for you to check out. The teacher starter kit features different lessons from Math, Shapes, and Reading. Students will both learn and have fun with the learning resources at the same time. Then you can join our "Getting Started: Q & A" webinar by signing up here.
We've created fun and exciting games for your students in addition to learning tools. Create arts and crafts projects, games that encourage teamwork, and teach them organizational skills at school and home.
If you are struggling with coming up with different lessons for students for the entire school year, no more worries! We've done everything for you! All you need to do is to check out the links and start exploring the teaching tools for your next class!
I recently learned how to blog, and you can start creating your own, too!
Need help using ASL in the classroom?
Become a member at ASL Teaching Resources and start making your life a little less stressful. Get access to hundreds of Sign language resources today!