Scroll down for your free ASL for kids!
Success Story- We are being noticed!
Get the ASL Podcast here
This is a membership group I belong to for support as our business grows @ flipyourlife.flippedlifestyle.com
Also, Sign Baby Sign's question was featured on ASKPAT.COM Episode #687 "How do I create a video podcast". Will be showing off our Ask Pat T-shirt soon.  Thanks Pat for guiding us!
---
New ASL Teaching Resources
This is a downloadable product. Download the file and print on your own printer.
These new designs help teach and learn sign language.
Set includes:
•Full set of 8 x 10
•Apple, Banana, Cake, Cereal, Cookie, Cracker, Eat, Fruit, Hungry, Milk, Orange, Pumpkin, Thirsty, Water

Our 1st Wall Chart Book- Food
                     ASL Teacher Resources
If you hoover over the vocabulary list below you may see some of them signed.
New Single Wall Charts- order here!
Ball
Bed
Bottle
Hungry
Fruit
Cookie
Cereal
Cake
Banana
Apple
Answer
---
FREE this week: "Left – Right" ASL worksheet for kids.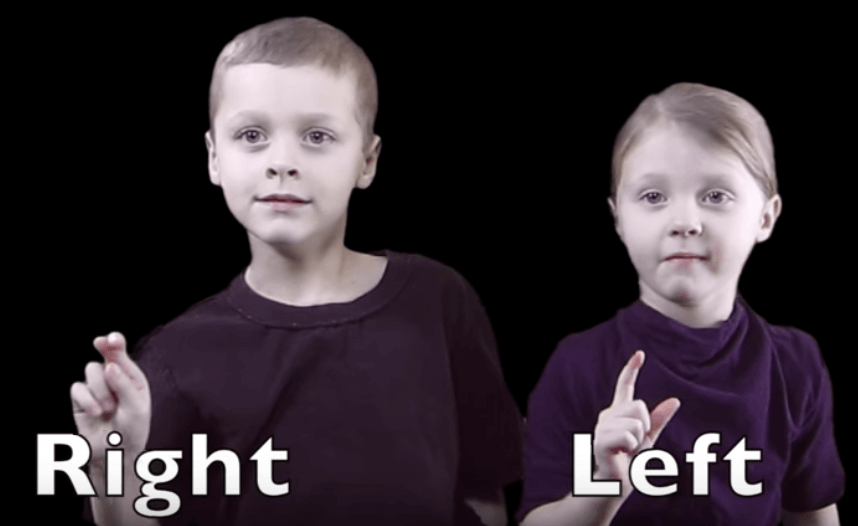 How to sign Right                      How to sign Left 
10 Fun Ways to Teach Children Left and Right
1. Sing and sign Hokey Pokey.
2. Show how the left hand makes an L.
3. Show how we write with our right hand.
4. Play twister.
5. Pass objects to the left and right on voice command.
6. Play getting dressed saying, "put your right hand in your sleeve".
7. Make a left/right ring to wear.
8. Show your children the video blog on how to sign left/right.
9. Put Red sticker (R for red) on right shoe.
10. Write and R on the right big toe and L on the left.
11. Put a red shoelace on the right shoe.
12. Use sign language for left/right.
Upgrade to the complete lesson plan set.
The full ASL "Left/Right" Lesson Plan includes:
Teacher's guide
8 X 10″ of the sign
Worksheet for the child
Take home worksheet with instruction
Game, craft, and extra ideas
---
"Learn ASL in 60 Days"
Online class:  Enroll here for our online course.  Use coupon code ASLBCPL for our online class- only $20 this week.
Local: Show up to Boone Co Library in KY. March 9, 16, 23, 30, April 6.  Time-6-7:15pm Thursdays.
---
Enjoy this ASL download and share our link!  They will thank you.
Subscribe to take advantage of the free coloring sheet download period.