Clothes in Sign Language gives you the confidence to know how these ASL clothing vocabulary words are signed. There is no need to look at a paper and figure out how it is supposed to be signed. Just look here and sign along with the video for quick success in knowing your clothing sign language words.
ASL Clothing Sign Videos for Vocabulary Success:
This video(s) shows you how to sign all the words in the flashcard set. It is a part of the Sign Club series.
Clothing Flashcards
The Clothes Flashcards are your ticket to a vibrant and inclusive learning journey. Whether building your clothing vocabulary or enhancing your sign recognition skills, these flashcards offer a multisensory approach that caters to all learning levels. Explore the world of fashion vocabulary, engage in exciting classroom activities, and watch your language skills flourish!

Clothing Dice Game
Your students will love learning new vocabulary through this Clothes Dice game!

Clothes Ladders and Slides Game
Boost vocabulary retention with this fun group activity! Clothes Ladders and Slides game is easy and fun to plan.

Clothes Lesson Plan Book
Teaching with the Clothes Lesson Plan Book makes teaching clothing vocabulary easy. Include Wall Charts, flashcards, dice, teacher and caregiver guides, and learner handouts.

Clothes Word Scramble
This Clothes Word Scramble is fun and engaging. Your learners won't even realize they are practicing vocabulary!

Clothes Word Search
Teach and reinforce clothing vocabulary with this fun engaging Clothes Word Search.

Clothes Boom™️ Cards
Interactive online activities are at your fingertips here.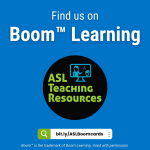 Coming Soon…
Clothing Wall Charts
Clothing Fortune Teller
👉 Additional Resources 👈🏼    
Collect more Clothing fun here.
ASL in the Classroom Blogs here.
Sign Language Books on Amazon here.
Subscribe to our YouTube channel.
❤️ Sign Language in the Classroom: Quick Guide here.
Love this product? Learn how to get this free!