Description
Staying organized has never been easier with this distinctive ASL Wall Calendar – Light Skin (Editable) 2022 Wall Calendar. It will quickly become your favorite tool to keep school, work, and your personal life organized. This calendar has 2 views per month: ASL & English. 
3 Options for this 2022 ASL Calendar
Option 1 Print and hang on your wall
Option 2 Keep on your laptop to access the fillable feature to fill in appointments.
Option 3 Fill in appointments on your device and then print to hang on your wall.
This is a 2-page monthly calendar that lays flat as a two-page spread for the entire year. This ASL Calendar will provide ample room to write and you'll love being able to plan out your entire year. Don't forget your reminders, field trips, staff meetings, and student birthdays – this is the place to jot it all down!
It's adorably themed to change with the seasons while offering you the chance to practice your ASL numbers. This teacher (fillable) calendar is everything you need to stay completely organized this year! Bonus: QR codes provide additional ASL ideas to use throughout the year.
This ASL Calendar Includes
2 views per month: ASL & English.
Seasonal monthly themes
Calendar month-at-a-glance (Fillable)
Monthly Notes for easy organization (Fillable)
9 pages of communication cards
Practice your ASL ABCs and Numbers 1-50
This is a physical calendar that you will receive via mail. It is not a digital download and is not included in membership benefits. These are non-refundable products.
How to order the ASL Wall Calendar – Light Skin
Please note, when clicking the link you will redirect to our printing affiliate site to complete your order.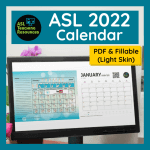 Seven Calendar Pro Tips
Keep calendar centrally located
Schedule time for planning
Keep the focus on your goals
Design your ideal workweek
Practice your ASL numbers daily
Establish a practical daily routine
Color-code your calendar
Time Management
In simplest terms, time management is the ability to plan, organize, and control your time. Controlling the hours in your day will help you accomplish your goals. Ultimately, good time management is focusing on activities that get results rather than merely being busy. Done correctly, you'll be more productive and efficient. You'll also have less stress and have more opportunities to grow personally and professionally. Control of your time helps you develop a strong professional reputation.
Our Top Picks for Time Management
See the Sign Club for Calendar here.
More ASL Merchandise here.