Get your $100 Coupon!
We're celebrating and YOU get money!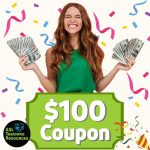 10,000 YouTube subscribers so…. YOU get…
$100 off Pro Yearly Membership for the first
100 people!
ASL Teaching Resources specializes in providing elementary teachers with the necessary tools to be successful whether you know sign or not.
You'll get access to ready-to-use sign language supported worksheets, lessons, flashcards, videos, games, sign club, online courses, and much more!
We respect your privacy. Unsubscribe at any time.