Fun Activities for Valentine's Day
Holidays are an enjoyable time in the classroom and my students love celebrating! Especially the parties, it's all about the candy and activities for them! Personally, I love the excitement and creativity that holidays bring to the classroom. I love seeing those precious moments when they get a gift from a classmate, and their faces light up. These moments are always the highlight of my day! Let's talk about creating opportunities for these moments in the classroom with Fun activities for Valentine's Day. 
First, let me share one of my favorite free ASL resources with you. The Sign Club for Children, where all the tools you need to be successful whether you know sign or not. Each week you will have access to all the videos and your lesson plan with clickable links to extra resources (ASL Lesson Plan Books, optional purchase). The purpose of the club is designed to bring awareness to the language through fun engaging activities. To preview the videos below, click on the 3-line drop-down menu to see all the additional Sign Club videos.
ASL Valentine Gift Ideas
Valentine's Day cannot be complete without the exchange of gifts, cards, letters, or sweet Chocolate! These ideas are sure to be a hit in your classroom too! Read below for a couple of free gift ideas.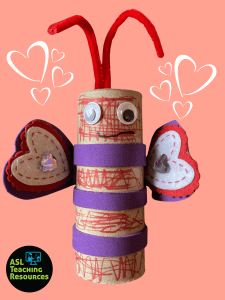 Paper Roll Lovebugs are another easy gift for your students to make. The materials needed are toilet paper rolls, markers, pipe cleaners, glue, construction paper, and googly eyes. Have the students decorate the roll as they like, add construction paper wings, or pipe cleaner arms and legs. Then add the final touch with googly eyes. Lovebugs are a great gift to give to a parent or grandparent.

The Heart Thumbprint Bookmark is fun for my whole class and the perfect gift for the readers in their life. The materials you will need are construction paper, crayons, glue, a hole puncher, some ribbons in different colors (if you like), and red ink. Have your students cut and create the shape of their bookmark and begin to decorate it. INext, go around with your ink pad and help each student make two or more thumbprints into the shape of a heart. Simple and easy but so much fun.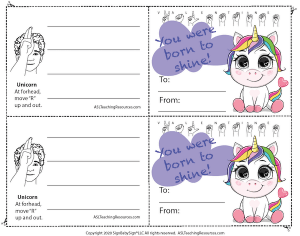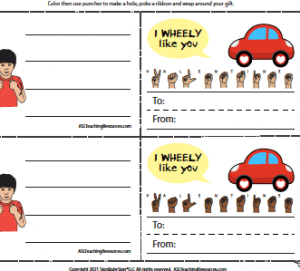 The Valentine's Card exchange is always the highlight of every classroom party. Here is my favorite online or in-class card exchange. These Ecards are excellent to print out and use in the classroom. An added benefit is if your classroom is currently virtual, the kids can send them online to their fellow classmates. (This site will NEVER collect the email addresses of students!) This activity will allow your students to work on writing and social skills while having fun. There are several FREE versions to choose from in the dropdown menu.
Sign Language Valentine Games 
Here are my top 3 go-to ASL games I use in the classroom. I love adding new activities and games for my students to celebrate the holidays. Valentine's Day offers so many options to choose from.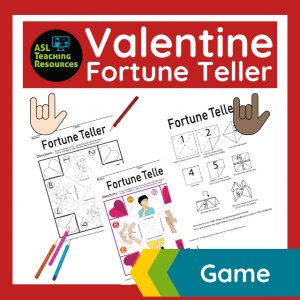 The Fortune Teller Valentine Game is a fun origami craft! This clever paper fortune teller (aka cootie catcher) provides a unique way to reinforce sign language vocabulary while also working on those important motor skills. What will your fortune be? Here's a sneak peek for you.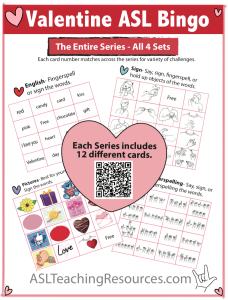 Bingo! Who doesn't love Bingo games? This Valentine ASL Bingo Book comes with varying levels of difficulty so it can be used several times as you get ready for the big celebration. Have fun while working on hand-eye coordination and reinforcing the Valentine ASL vocabulary.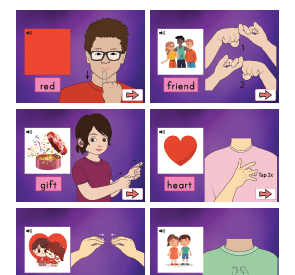 The Valentine Vocabulary Flashcards are great for in-class or online learning. This activity has a lot to offer from vocabulary reinforcement and sign recognition to word scrambles and spelling. So much in this all-in-one activity! These Boom Cards are a teacher's best friend!
Valentine's Day Crafts for the Classroom
Valentine's Day crafts work on so many skills with our students, and the possibilities of finding a craft that they love are endless. Here are a few of my classrooms' favorite crafts. You're going to love the free ideas!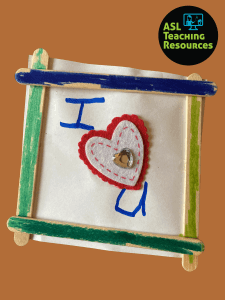 Popsicle Stick Picture Frames are the easiest craft and offer so many ways to use them. For my classroom, I ask each child to bring in a picture of themselves that we will place inside the frame or write a message. Materials needed are popsicle sticks, glue, construction paper,  markers, and any other Valentine items you may have found from the Dollar Tree. We start by decorating our popsicle sticks and then gluing them together to make a frame. We take the student's picture or message and glue that to the frame. This project is so super easy and so versable for whatever you might like to include in the frame.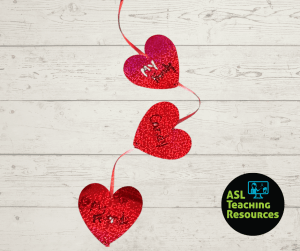 Every Year I have my students help make Heart Garland. We decorate our bulletin board with these. Here are the materials needed: construction paper, string, glue/tape, and markers. I take the string and cut it to my desired length. I hand out the string with several paper hearts (I usually have these pre-cut for convenience.) I ask each student to write something that they love or a favorite activity they enjoy. After that I have them attach the hearts to the string, and then we hang them up for everyone to see the things we love.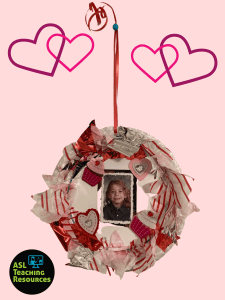 Paper Heart Wreaths are another simple and easy project. You will need paper plates, colored tissue paper, ribbon, hole puncher, crayons, and glue. I have the students decorate their plates in the center with pictures, drawings, or messages. We take scraps of the tissue paper crumpled up and then glue them around the edges of the plates. After each wreath is completed I go around and use my hole puncher on the plates and have the student put the ribbon through the hole. This awesome craft is ready for every student to take home and hang up for Valentine's decoration. 
I sure hope you are as excited about Valentine's Day activities with your students as I am. Happy Valentine's Day to you and your class! I would love to hear about your classroom's favorite Valentine's activities and crafts.
Free Sign Language Gift for you: Click Here!
Join us for our complimentary webinars. Reserve your spot today here.
Looking for additional resources for your classroom. Check out these below.
Valentine Stories, Songs, Videos, and more for Kids!
5 Activities for Valentine's Day in the Special Ed Classroom
How to Create a Successful Special Education Inclusive Classroom