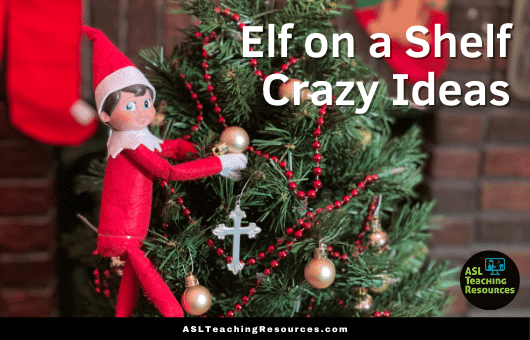 Have you found yourself asking, how does the Elf On A Shelf work? Scrolling everywhere, you see THAT elf that is constantly in silly situations. I know, I caught myself wondering, what is it all about? Well, I did a little research, I'm ready to share everything you need to know about this Christmas tradition. Plus 15 Elf On A Shelf Crazy Ideas that are super easy to use. As a teacher and mother, I always am sure to incorporate a little ASL learning in with our Fun!
Elf On A Shelf New Parent Rules
Wait, what rules for me? Yes, here are just 7 tiny rules to follow with your little Santa helper. Following these simple rules will make your Elf Fun easier than saying "Christmas."
First name your Elf. The usual tradition is to think of something silly or sweet (think Cupcake or Twinkles). Need an Elf fast quick and in a hurry, we have you covered, just download our handy Elf Cut Outs for any easy fix! They even come in two skin tones, Light Skin or Dark Skin.
Second, know your Elf can arrive whenever you want. Just pick a day and go with it!
Third, Your Elf moves every night while everyone is sleeping! (Helpful tip: set an alarm on your phone, because you will forget!)
Fourth, the Elf is always watching and reporting to Santa on everyone in your house! In my house, I tell my little ones that our elf reports on me too! Fifth, kids can't touch the Elf, otherwise, he might disappear. Whoever thought of this one, bless them!
Sixth, the Elf doesn't speak to kids, only adults. I think the Elf finds it more comforting, after all, Santa's a big guy.
And lastly, the seventh final rule is your Elf leaves right before Christmas! All the Elves have to return to the North Pole to help Santa on his big night.
15 Crazy Ideas To Do With Your Elf
Now that you have gotten your Elf and named it, we are ready to have so much fun! Now, remember that your Elf can be a little sneaky, getting into things. However, if he forgets to move…well that's just a shame! So keep this list at your fingertips all month long!
Elf Mask
No need to worry about your little friend from the North Pole. No quarantine time is needed. See Santa already released a statement, that all elves are 100% healthy. Since they are magical beings from the North Pole, they don't get human sicknesses and do not need to quarantine. Even though they can't catch a cold, they still do wear masks and dutifully practice social distancing. Masks specially made for your elf can be found right here, choose your Light Skin Mask or Dark Skin Mask here. Watch our video below.
No Germs for Elf
Your Elf might not get sick, but they don't like to be dirty either! No Elf wants to be called out by Santa because they left elf prints on the latest toy in the workshop! Germs are everywhere, so your Elf will want to share their special routine for washing hands with this coloring sheet. Now your Elf will want to show off their crazy side here, so beware. Watch out so that your Elf doesn't fill your sink with marshmallows or turn it into a shark tank. Watch your toothbrush, your Elf could borrow it to do some cleaning!
Elf Snow Match
Today's your Elf challenges you to this Snowman Matchup Game (Full-color game or black & white game here.) This was one of our kids' favorite games!  Now don't be surprised if your Elf decides to decorate your bedroom with snowballs, covers your kitchen in powdered sugar to create that perfect wonderland experience. You have been warned!
Elf Dance
Are you ready to show off your moves? Everybody dance! Catch some of the holiday giggles while watching your Elf and their friends get groovy. Where are your Elf friends you ask? Meet Dark Sugarplum or Light-Saber our dancing buddies.  A warning should be made here, your Elf could get so excited it wants to dance on the ceiling or throw a Fortnite Dancing party in your living room.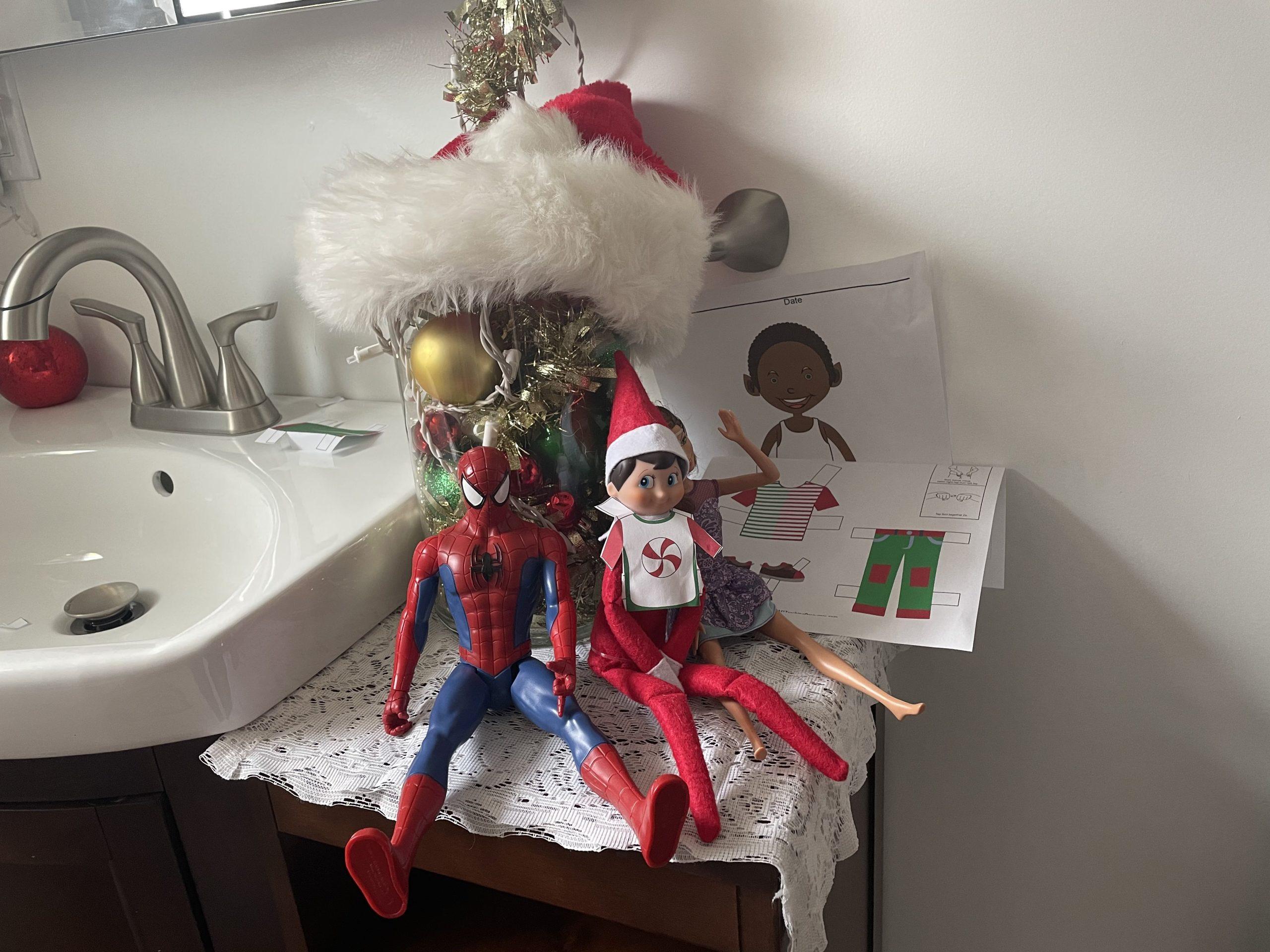 Elf Doll Dress Up
Your elf loves to get dressed up for every occasion, big or small. Our Dress Up Paper Dolls (Dark skin or Light skin), is a fun interactive game for your child. Now our child's Elf Ralphie has been known to raid the Barbie house or GI Joe men so he can really get into the fun! Dress-up Party!
Elf and the Maze
Today your Elf wants to have a-Maze of a time!  Start with this set of Mazes. Now your if your Elf is really on his game, he/she might turn your hallway or classroom into a sticky maze of duct tape. Hot lava has nothing of your Elf's ability to turn any floor into a maze to rescue all the candy canes before they all melt. Better hurry!
Elf Coloring Contest
Let the coloring begin with these Christmas Coloring Pages. Coloring is an Elf's favorite hobby, but watch out they have been known to color everything ins sight. Your hair might be rainbow-colored tomorrow!
Elf Game Night
Do elves love playing Christmas-ified games, like "Tic Tac Bow"? I have an easy game to start you off. The Elf wants to play this Fortune Teller game, it is a fun origami craft game. Need more ideas? Try wrapping all your board games and when it's time to play pick the gift-wrapped one you think you'll like best. Or how about the Elf hides items for a hide-n-seek. Happy gaming!
Elf Puzzles' of Fun
Puzzles offer so many options. Our elf usually starts with a puzzle that the kids must help him find the missing piece. Sometimes he's even hidden all the puzzle pieces, that was hard finding all those pieces. Our elf friend has sent you these Elf Puzzles (Light Skin or Dark Skin) to get you started. Let's have a puzzle of a time with this one!
Elf Snowflake Fun
Snow is fun, but snowflakes are amazing! Your Elf will probably cut out snowflakes and leave them everywhere. I found a way to have fun with our Elf with these Counting Snowflakes and Snowflakes Counting Graph pages. My kids love making Q-tip snowflakes, how big can you make yours?
Elf Snowman
This one couldn't be easier! Your Elf can turn your toilet paper rolls into a snowman, he can hide inside too. Our Elf always leaves a Snowman Matchup (colored or black/white) game and Sequencing game out by the TP. What other Snowman ideas can you come up with?
Elf Loves Books
Another crazy easy one here. Elves love reading books and hearing them too. Our Elf loves making book forts because they are cool! He usually leaves the kids these Christmas Flipbooks (Dark Skin or Light Skin) to play with too.
Elf Cooking
Watch out this could be a messy one! Your Elf can set the stage for some cookie madness and a possible sugar rush! Keep your eyes open for the powdered sugar snow angels. Set all the ingredients out for sugar cookies. Don't forget the cookie cutters and decorative toppings. After the cookies are in the oven, you can give your child a Cookie coloring sheet to keep them busy while they wait for the best part, cookie decorating. Yum, send me some!
Elf Writes to Santa
Don't forget to get those last-minute Christmas wish list items to Santa. Your Elf is here to help with all your Dear Santa need. Don't let the little ones worry, elves are magical so they will make sure Santa sees it. Your Elf can make his own or the kids can make a mailbox. The easiest way for everyone in the Stocking Express. Just drop those letters into your stockings and elf magic will transport them on their way.
Elf Is North Pole Bound
My Elf always wants to stay but knows he must return to help Santa at the North Pole for his big night. On his final day with us, he always leaves one last game before he leaves. We start our last day together we start with the Dice game, then we move to Lego houses and Christmas tree popsicles crafts. When it's time for him to head home he climbs into his stocking and waits for his special Elf Stocking Express ride to the North Pole.
I hope you have enjoyed our easy 15 Elf On A Shelf Crazy Ideas. There are plenty of other Elf inspirations I could share, like movie night and snowball bath. Maybe next year.
More Elf On A Shelf Crazy Ideas
We would love for you to share your Elf adventures with us! Just Tag us at #15elfonashelfcrazyideas #aslteachingresources.  We can't wait to see all about it! And for more Elf Fun, because these 15 Elf On A Shelf Crazy Ideas weren't enough for you!  Join us for our 24 Days of Elf On A Shelf countdown and get your Free Elf On A Shelf Calendar here. When you sign up for the emails, you will get special free downloads! If you miss it, you can still purchase the products or become a member and get it FREE! Check back daily to see what we are up to and see all the new videos we will be adding on here.
Need Additional Christmas Gift Ideas?
Look no further, we have the perfect gifts for everyone on your shopping list. Shop Now.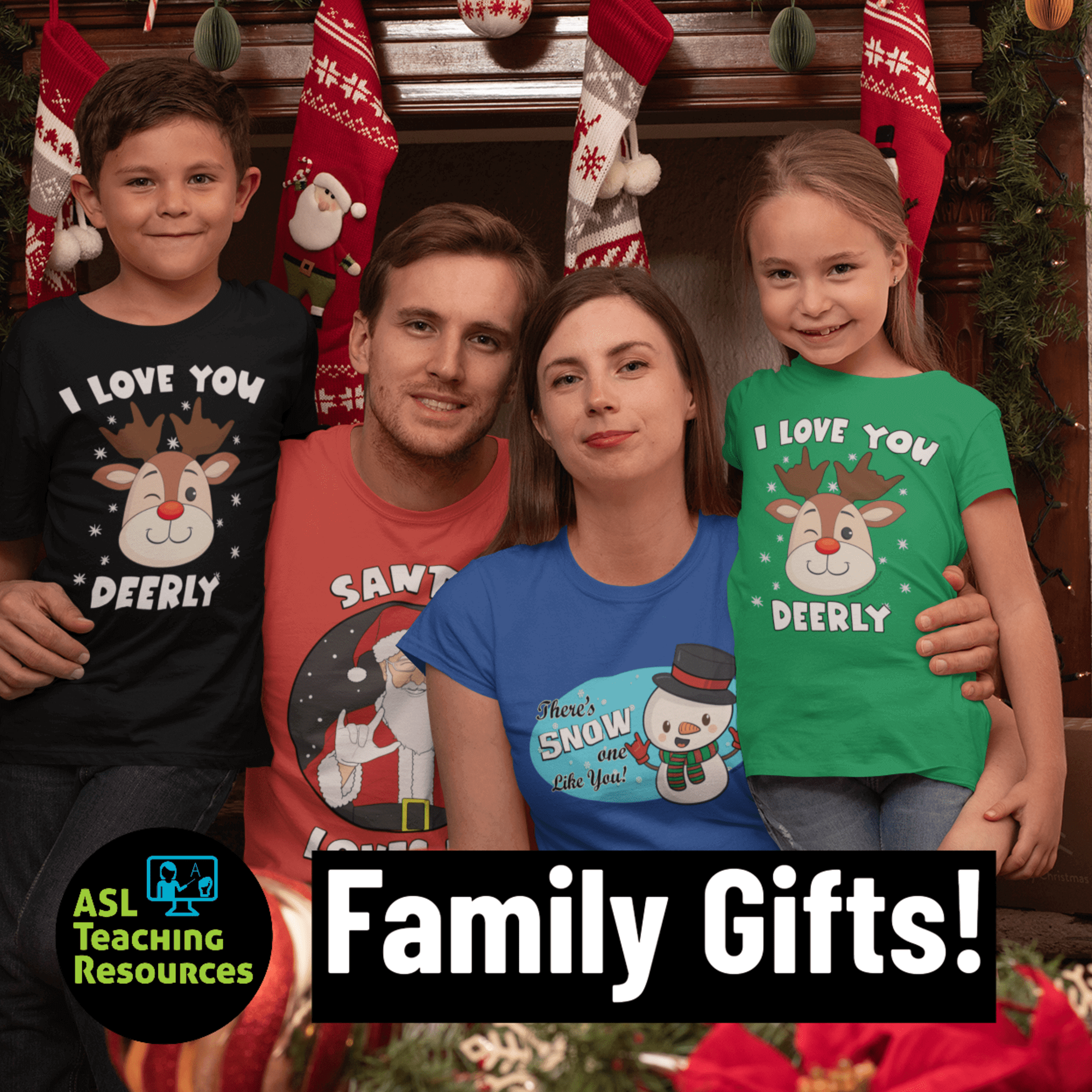 Merry Christmas and Happy New Year
Happy Singing